New 2mm safety system SKS-Hirschmann for measuring and testing will serve even in tight spaces, on densily populated PCBs and similar.
This is an archive article published 11/19/2013. Some information may no longer be up to date and in line with the current state. Please contact us in case of interest.
It´s not that far, what we introduced to you a wide portfolio of a measuring and testing equipment from SKS-Hirschmann in the article SKS - measuring and testing with pleasure. It can be said, that almost everyone, who´ll try testing probes or clamps from SKS, will quickly favor them and they differ from many "no-name" products by a precise, sufficiently rigid construction.
This time, the company SKS comes with a novelty in a form of a 2mm safety system, which despite small dimensions meets specification for CATIII - 1000V. As this system for 2mm banana plugs is significantly smaller than 4mm system, it enables a comfortable and effective measurement even in tight conditions, at smaller components, …

Naturally, this system can be convenient not only because of 1000V max. voltage but also thanks to smaller dimensions of banana plugs and a whole set of accessories. That´s why we´ll appreciate it at measurement in all applications where there´s "no space left".
New safety system we keep as items upon order, but probably we´ll soon incorporate it to standard stock items.

In case of interest in any SKS-Hirschmann product, please contact us at info@soselectronic.com.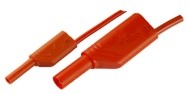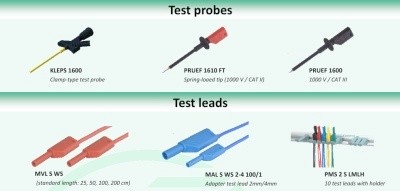 Advantages / Features:
2 mm safety system for measuring and testing

CATIII/ 1000V

small dimensions for work in constrained conditions

gold-plated contacts

ergonomic design and high safety

comfortable and safe work
Do not miss these articles
Do you like our articles? Do not miss any of them! You do not have to worry about anything, we will arrange delivery to you.
Gain the testing probe for free!
Competition with the following question has been published here:
What´s the max. diameter of a conductor, which can be measured by the KLEPS 1600 probe?
The correct answer was:
We have drawn the following winners:
Frantisek Zummer [SK]
Ladislav Mach [CZ]
Miloslav Semler [CZ]
Michal Kuběnka [SK]
Lubomír Dekař [CZ]
Congratulations to winners. We´ll inform them by e-mail.