Lantronix xPico WiFi module enables to directly configure a target device via a software access point - without a need to access a client´s network.
This is an archive article published 09/04/2013. Some information may no longer be up to date and in line with the current state. Please contact us in case of interest.
Lantronix xPico WiFi is a new module with a dual serial port (+USB 2.0, + SPI) enabling to connect target devices into WiFi network with several features making it user very friendly. xPico WiFi is of the same miniature size like its near familiar - xPico (ethernet), which was introduced to you in the article "Do you need a chip-sized Ethernet ?" and it also has the same pinout, offering an unusual flexibility at the device designing.
As we´re already used to at products from company Lantronix - for a real usage it isn´t necessary to write a single row of code neither load any drivers. Perhaps the biggest advantage of the new module is, that it provides a simultaneous software AP (Access Point) with a DHCP server and Client mode, what means, that besides operation in WiFi as a "usual" client, it also enables a direct access - communication with other WiFi device, e,g, tablet or smartphone. It provides a huge advantage to producers regarding configuration or servicing of devices in a form of a direct access ONLY to a given device, without a need to access into a customer´s network. Safety is cared by 256 bit AES encryption and a reliable operation is guaranteed in a wide industrial operating range -40...+85°C. The module is supplied by 3.3V and serial ports are 5V tolerant. Thanks to a low power consumption can be the xPico WiFi operated even from batteries (6uA standby).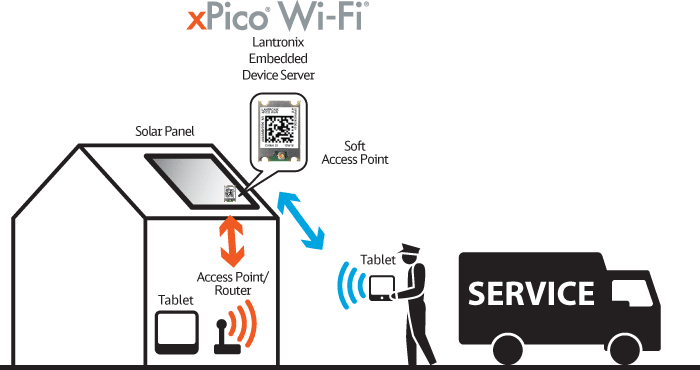 Advantages / Features:
complete miniature embedded device server

IEEE 802.11 b/g/n (2,4 GHz), WPS 2.0

low power consumption (6uA standby)

simultaneous soft AP and Client mode

simple communication with tablets and smartphones

dual serial port (up to 921 kbps)

3,3V interface (5V tolerant)

SPI (up to 20 MHz clock rate)

USB 2.0 full rate, 8 GPIO

eliminates need of an expensive SW and FW development

dimensions only 24 x 16,5 x 7,4mm

256-bit AES encryption

industrial temperature range -40 to +85°C

high flexibility, possibility to exchange for xPico (Ethernet)

uFL connector for external antenna
Do not miss these articles
Do you like our articles? Do not miss any of them! You do not have to worry about anything, we will arrange delivery to you.