Industrial Ethernet enables interconnection among standard office network and industrial environment thus becoming a standard for industrial production.
This is an archive article published 03/20/2015. Some information may no longer be up to date and in line with the current state. Please contact us in case of interest.
In presence, Ethernet is most widely spread communication technology in the world. It enables a fast data exchange between all devices connected in the local network.
Thanks to its simplicity, Ethernet standards became the most frequently used network standards. A reason of this popularity is, that they offer a simple technology connected with the biggest network - internet. Advantages of Ethernet and all related concepts are obvious:

● simple possibility of expansion
● fast initialization thanks to its connection technology
● dynamic adjustment of bandwidth (up to 10 Gbit/s)
● identical network topology for various applications (office and industrial)
Classic system of buses
Industry and production segment is characteristic by using of buses like: AS-Interface, Profibus, Device-NET and CANopen. They allow to connect a line of sensors, actuators, measuring probes and motors, which can be controlled by a controlling unit. Communication runs down to a level of sensors / actuators. Transfer speeds are up to 12 Mbit / with max. 255 devices depending on a given bus system. Linear displacement with al devices connected in series is dominant.

New possibilities thanks to industrial Ethernet
Industrial Ethernet representsattractive alternative of a classic bus syste. Industrial Ethernet Advantages represented by (producer-independent) are still more used in everyday praxis. Industrial Ethernet brings advantages of "usual" Ethernet into often harsh environment (reliable connectivity, availability and easy expansion). Cables of company Lapp Kabel belong to a top in this segment. We bring you a basic overview of the most frequently used components.
Products for industrial Ethernet
ETHERLINE® Cat.5e

High quality double shielding eliminates influence of high-frequency disturbing fields.
Flame retardant according to IEC 60332-1-2. CAT.5e-specification
ETHERLINE® PN Cat.5

FC: "Fast Connect" cable construction Flame retardant according to IEC 60332-1-2.
ETHERLINE ® Y FC and ETHERLINE ® YY: Flame retardant according to CSA FT-4. Prevedenie Cat.5
Industrial Ethernet patchkabel H RJ45-RJ45
Industrial version of interconnection cable (patch) with RJ45 connectors.
Overall shielding by a copper braid and by aluminium-backed plastic foil.
Sturdy outer jacket from a PUR mixture.
Available are 2-pair and 4-pair versions, in standard lengths of 1 to 20 m.
RJ45 connector Cat.5 for PROFINET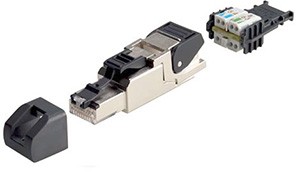 Body: zinc alloy, grey
Thanks to a multi-level fastening, usage of cables with diameter of 5.0 mm to 9.0 mm is possible
Suitable for AWG 27/7 -22 / 7 stranded core and AWG 24/1 - 22/1 solid core
Suitable for usage in industrial environment
Color coding compliant to PROFINET for Cat.5 applications
Industrial connector RJ45 Cat.6A 10 IP68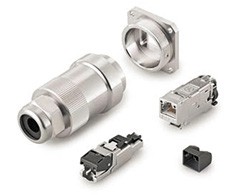 Industrial version of RJ45 Cat.6A connector with a metal body
Socket/ flange offers mechanical protection and a high level of protection - IP68
Connector is Cat.6A, suitable for 10 Gigabit Ethernet
Suitable for AWG 27/7 - 22/7 stranded wire (also for PROFINET) and AWG 24/1 - 22/1 solid core
In case of interest, we´re able to
recommend you suitable components for industrial Ethernet from LappKabel production
.
Please don´t hesitate to contact us at
info@soselectronic.com
.

Do not miss these articles
Do you like our articles? Do not miss any of them! You do not have to worry about anything, we will arrange delivery to you.
Gain the Data Strip stripping tool for free!
Competition with the following question has been published here:
Which types of cables do you use in your applications?
The correct answer was:
We have drawn the following winners:
Aleš Stuchlík [CZ]
Juraj Mokran [SK]
Attila Németh [HU]
Congratulations to winners. We´ll inform them by e-mail.