If you have a device with high safety demands then the rocker switches Marquardt 1550 series are the right choice for you. They are mechanically designed the way that they offer a high reliability of switching-off even in the case of welded contacts.
This is an archive article published 10/10/2011. Some information may no longer be up to date and in line with the current state. Please contact us in case of interest.
Imagine a situation that you switch on a circuit, which because of a failure has a much higher power consumption than it should have or from any reason it has a much higher in-rush current than usually. In such and similar cases it happens that the switch contacts weld together. At the subsequent attempt to switch off the circuit, a relatively small force of the rocker switch spring already may be insufficient to open these contacts thus it isn´t possible to switch off the circuit correctly. This is especially unpleasant at various control panels in the production operation, where in these cases the only way is to switch off the whole device or a complex of devices by means of a common master switch.
To decrease this risk, switches Marquardt 1550 series are equipped by a system of forced opening. Contacts or controlled by a control mechanism not only by means of a spring but also by means of a lug, which is able if necessary to push the contact bridge actuator by a significantly higher force than the spring alone.

We offer to you from our stock the 1555.3108. It represents a double pole switch with a green illuminated window, with a maximum current 16(4)A, resp. 10(4)A when a higher contacts lifetime is guarrantied – 50 000 cycles. The switches handles up to 100 A in-rush (capacitive) currents. Contacts are silver based and terminals are quick connect 6.3mm. To install to panel only a standard 27,2 x 12,2 mm cut-out necessary. Appliance panel can be 0.80 to 5.00 mm thick.
Switches from the 1550 series are available in various versions, detailed information is in the
Marquardt 1550 datasheet
.
Upon request we are able to provide you any type from the
Marquardt portfolio
.
In case of interest, please contact us at
info@soselectronic.com
.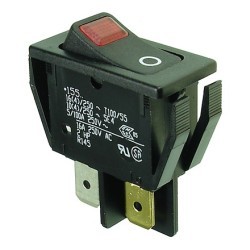 Advantages/ Features:
double pole rocker switch 16 (4)A/ 250V AC, 10(4)A 5E4

100A in-rush (capacitive) current

> 3mm contacts distance

forced mechanical opening in case of contacts weld together

illuminated window with a lens effect

silk matt surface with an abrasionproof marking

flammability UL 94 V-2

6,3mm quick connect terminals, PCB pins or solder terminals

various versions available
Do not miss these articles
Do you like our articles? Do not miss any of them! You do not have to worry about anything, we will arrange delivery to you.