Switch-on, switch-off, change-over, change polarity,... all this is possible with 2-pole push-buttons switches of Unimec series.
This is an archive article published 02/21/2013. Some information may no longer be up to date and in line with the current state. Please contact us in case of interest.
If we design a device with push buttons, it is usually advantageous when we can use the same push-buttons, independently on whether we use them for switch-on, switch-off, change-over,… Moreover, at a modification of a given device, a possibility to change the function of a given push-button without its exchange is often highly welcome. Unimec series push-buttons easily meet these requirements for versatility, what probably was a reason why a word "Uni" is also in the name of this series. The quality of the Unimec series is also guaranteed by the fact that company MEC from Denmark already for 75 years develops and produces top quality push-buttons.

Unimec push-buttons can be used by up to eight ways, as illustrated in the attached diagram. Unimec are available as momentary or latching and also in a standard or a high-temperature version (for operation at up to +160°C). Unimec are also available with silver-plated conacts (for currents from 0.5 mA) and also with gold-plated contacts, for currents already from 0.5 uA. Maximum current of 250mA (up to 500mA in a steady state) allows a universal usage, including a direct switching of many components, like for example latching relays. High-quality plastics, inner parts made of stainless-steel and an IP54 protection give a presumption of a long lifetime of these push-buttons.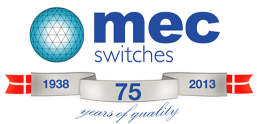 Unimec series can be used with various key-caps without or with indication LEDs. Moreover, with the 16.250 adapter it is possible to use a wide spectrum of key-caps from the Multimec series. Detailed information will provide you the Unimec datasheet.

Selected types we keep in stock, upon request we´re able to provide you any other types of the Unimec series. In case of interest, please contact us at info@soselectronic.com.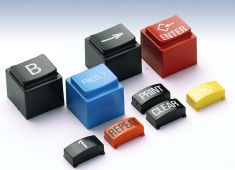 Advantages / Features:
high-quality 2-pole push-buttons

250 mA/120V, 9W AC, 6W DC

up to 8 ways of wiring

silver or gold-plated contacts

lifetime of 5E5 to 10E6 cycles (depending on version)

high-temperature version also available (up to 160°C)

momentary or latching versions

IP54 protection

key-caps with and without LEDs

also available key-caps of the Multimec series (with an adapter)
Do not miss these articles
Do you like our articles? Do not miss any of them! You do not have to worry about anything, we will arrange delivery to you.