If we compare a power consumption of classic adapters to switch-mode ones in a no load condition (standby), we will come to surprising values. The difference can be up to tens of kWh per year.
This is an archive article published 08/15/2012. Some information may no longer be up to date and in line with the current state. Please contact us in case of interest.
If we take as an example a relatively common 12W 12V/1A adapter, we can suppose about 2W power consumption in a standby mode. Modern switch-mode adapters have this power consumption only 0.5W (often even below 0.3W). It is 1.5W, in other words over 13 kWh a year. If we compared an overall efficiency at a real load, we would very probably count even bigger difference, because the efficiency of a switch-mode adapter is mostly 70-90%, while the efficiency of a classic circuit (transformer + a linear stabilizer) is often below 50%.


From this point of view, switch-mode adapters Minwa , clearly win over classic adapters. They are available directly from our stock, providing all benefits of switch-mode power supplies and they are a suitable substitution for classic adapters. In the MW3 series can be found types with an adjustable output voltage in a range of 3-12V and with exchangeable output DC connectors. In the Nx series, types with a fixed output voltage can be found and with a fixed 5.2/2.1 mm output DC connector. New adapters are resistant to shortcut and overload and they meet the most recent requirements about energy efficiency (EuP/ErP 2). A relatively stable - regulated output voltage enables to directly power many devices, without any additional (LDO) stabilizers - linear regulators, what further simplifies a target device design. Thanks to small dimensions, low weight and last but not least - also thanks to a very competitive price, they represent a suitable solution of a power supply for various devices.

In case of interest even in non-stock types, please contact us at info@soselectronic.com.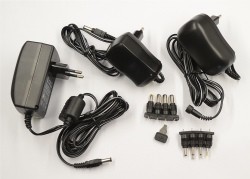 Advantages / Features:
universal switch-mode adapters

AC 100-240V, 60/50Hz input

DC output 3.0/4.5/5.0/6.0/7.5/9.0/12V or a fixed voltage

shortcut and overload-proof

small dimensions and a low weight

competitive price
Do not miss these articles
Do you like our articles? Do not miss any of them! You do not have to worry about anything, we will arrange delivery to you.