Neutrik powerCON power connectors are a reliable solution for various portable devices, not only in audio technology. Very pleasant handling, safe locking and long service life with frequent connection and disconnection say it all. (reading for 3minutes)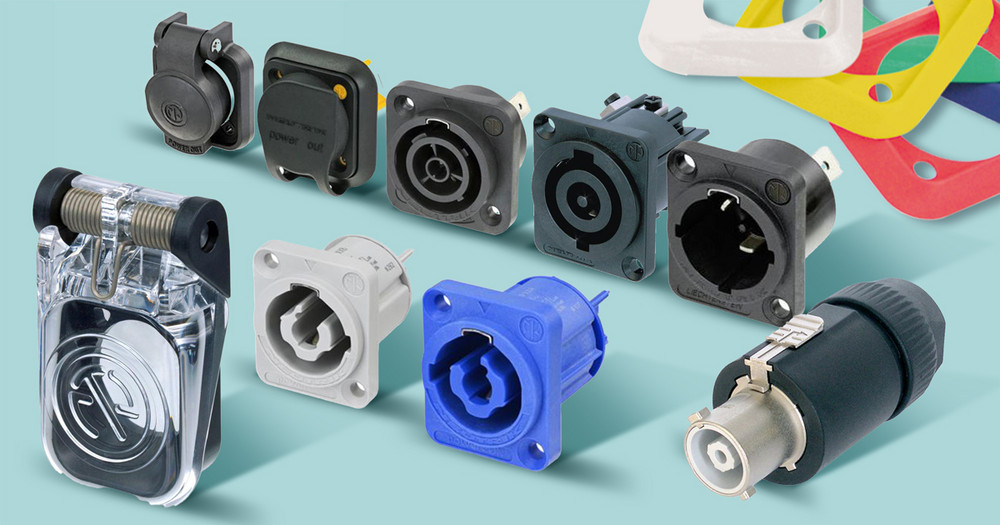 We are all familiar with the 230 V network power connectors that we have on PCs. From the SOS electronic offer, we choose, for example, power connectors
6200.2200
from Schurter. These connectors are in high demand because they are of high quality, reliable and affordable.
However, they are not an ideal solution in applications where frequent connecting and disconnecting to the device is necessary, since the force that we have to use during manipulation is still a little greater than what is required in portable devices.
František Ďuríšek, SOS electronic product specialist, will present us with a more suitable solution for these applications. He will introduce us to the product offer by Neutrik, which produces three groups of network connectors. You can find selected products in our stock offer.
Advantages and features of Neutrik powerCON series connectors:
robust design with a lifespan of > 5000 connections,
a quick locking system prevents the connector from being pulled out accidentally,
low and pleasant disconnecting and connecting forces during manipulation,
versions with IP65 protection or covers that provide the necessary protection when disconnected
3-pole (L, N, PE) up to 250 VAC, from 16 A to 32 A (depending on the type) 
We selected Neutrik powerCON from the range of power connectors
Basic group – powerCON 20 A
The powerCON 20 A series connectors can be the first choice when looking for a power connector for portable devices. They meet the basic needs for a network connector and are affordable. In addition, their color differentiation at the input and output is clear and very practical. 
From the product range of this basic group, we recommend the power connector NAC3MPXXA in blue color, which is dedicated by Neutrik as an input (for the appliance). This includes the gray NAC3MPXXB connector, which is dedicated by Neutrik as an output (for the source). Both power connectors have a basic IP20 protection. With the SCCD-W cover, we achieve protection of up to IP65 when the connector is not occupied. Alternatively, we will use a simple SCDP-0 rubber seal. 

PowerCON TOP 16A group
For outdoor applications, we reach for another group of Neutrik connectors. The powerCON TOP series has increased IP65 protection and is characterized by the typical black color of the connectors at the input and output. 
We recommend using the NAC3MPX-WOT-TOP power connector for the input voltage and the NAC3FPX-WOT-TOP type connector for the output. The Neutrik company marks them with the abbreviation TOP, which stands for "True outdoor protection". From a practical, as well as a safety point of view, it is an advantage that we have the option to cover the currently not used connector with the SCNAC-FPX rubber cover or the NSSC-2 plastic cover.

PowerCON HC 32A group
For applications with higher current consumption or in a harsh industrial environment, we would recommend and go for the extremely robust and reliable powerCON HC series connector group up to 32 A with basic protection IP20.
This series offers a Neutrik NAC3MP-HC panel power connector and its NAC3FC-HC cable counterpart. Despite the maximum current load of up to 32 A, it is of very small dimensions and still requires low connection and disconnection forces during handling. Based on the IEC 61984 standard and the manufacturer's recommendations, these connectors cannot be connected or disconnected under load. 
Neutrik powerCON connectors are ideal for the applications:
in audio technology,
for chargers, welding machines, power plants,
for solar technology,
generators,
various portable devices,
but also for lighting devices.
Neutrik powerCON power connectors in the SOS electronic range 
We have currently expanded the range of 230 V power supply connectors and added selected Neutrik powerCON series connectors with practical accessories. We will be happy to provide you with additional Neutrik connectors on favorable terms upon order.
At the end of the article, we bring one more thought for reflection. Could such a power connector be used as a DC power connector? The manufacturer does not recommend this. Is there really such a big difference between DC and AC that we can't use the same connector for both? What do you think? We will discuss this topic in one of our next articles, where we will present this issue in more detail and at the same time try to find a solution in the form of suitable connectors.
Are you interested in more information about Neutrik products or technical advice when choosing a product? 
Or do you have another question or request? Fill in the following form, we will be happy to help you.
Do not miss these articles
Do you like our articles? Do not miss any of them! You do not have to worry about anything, we will arrange delivery to you.