What is HomePlug?
The dLAN® adapters from devolo offer very many advantages over traditional wireless technology. First of all, there is no need to route cables; in addition, setting up a home network with the devolo adapters is extremely easy - plug in and get started. HomePlug adapters let you connect desktop or notebook PC, printers, modems and routers to your household power grid, transforming it into a full-featured data network.
This is an archive article published 05/26/2009. Some information may no longer be up to date and in line with the current state. Please contact us in case of interest.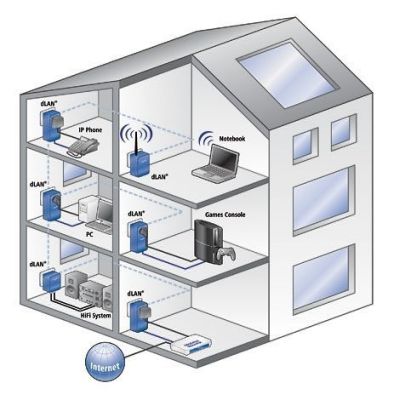 What is this technology for?
The HomePlug technology is suitable for setting up a PC home network or PC network of smaller sizes through adapters connected into wall sockets in existing power supply e.g. for PAN (Personal Area Network) or SOHO (Small Office and Home Office).
There are many other possibillities for different applications, as audio version for audio transmission over the household power supply grid with stereo audio output or TV Sat version - digital satellite TV (DVB-S2) in HD quality on your PC. Completely without antenna cable - direct from the power socket.
How to set up home network?
HomePlug adapters are divided into three main versions due to their transfering speed:
Fast 14Mbit/s - Faster 85Mbit/s – Fastest 200Mbit/s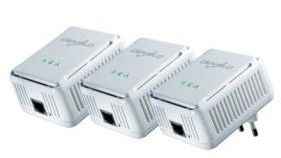 14Mbit/s
- basic version of adapters with Ethernet and USB interfaces for flexible data communications over the household power supply.
Application examples: connecting computers to a modem over the electrical wiring, connecting game consoles to a modem, sharing one Internet connection among multiple computers, networking two computers to each other, VOIP calling.
Except for basic adapters there is also available audio extender adapter for transferring music from a computer to a stereo system or to active speakers
Products marking: dLAN® duo, dLAN® Audio extender
85Mbit/s
- this version is used for computer and hardware networking as well as for IPTV or VOIP calling.
Except for standard Highspeed ethernet adapters there is available also HSplus adapter with integrated socket and adapter with integrated wireless interface – WLAN network & Internet extension (from 200 up to 300m).
Products marking: dLAN® Highspeed Ethernet, dLAN® HSplus dLAN® Wireless extender
200Mbit/s
- the fastest version of Devolo adapters for HD video streaming, multimedia applications and home networking in high-end quality over existing electrical wiring.
Except for standard dLAN® 200 AVeasy adapters there are available also dLAN® 200 AVplus with integrated power socket and mains filter for more convenience and higher performance as well as dLAN® 200 AV Wireless G adapter with integrated Wireless LAN access point for wireless networking and Internet access throughout your entire house. 200Mbit/s version offers also extra device called dLAN® TV Sat - digital satellite TV (DVB-S2) in HD quality on your PC.
Products marking:
dLAN® 200 AVeasy, dLAN® 200 AVplus, dLAN® 200 AV Wireless G, dLAN® TV Sat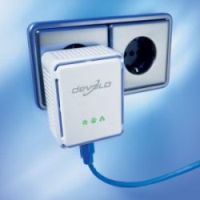 "Plug in and get started" installation

Configuring the adapter does not require any settings on the device, any software or a computer – that's simple! Just connect your home devices into adapters and then plug them into a power outlet to transform your household power grid into a fully functional network. The device installation is needed only in case you want to use additional functions or when using following adapters: dLAN® Audio extender, dLAN® TV Sat


Security for your network!
The 56-bite DES encryption of 14 and 85Mbit/s dLAN® devices protects your network sure against unintentional access and guarantees a high degree of security. There's no complicated configuration or setup involved. 200Mbit/s adapters are protected with 128-bite AES (Advanced Encryption Standard)encryption.


Range of devices
The data transmisstion is sensitive to the lenght of cables, as well as to power strips with integrated surge protectors which can impair performance; therefore, devolo recommends plugging the dLAN® adapters directly into a wall outlet.
The HomePlug® technology uses the household electrical wiring as if it were a long network cable—offering a range of 200 m (656").



Please find the list of Devolo products with more information below:
Do not miss these articles
Do you like our articles? Do not miss any of them! You do not have to worry about anything, we will arrange delivery to you.