The solution is an embedded module. Swedish company Embedded Artists will help you in tit by their top-class modules with NXP processors.
This is an archive article published 12/13/2013. Some information may no longer be up to date and in line with the current state. Please contact us in case of interest.
Embedded modules are still more used in many products, where so far a classic microcontroller was sufficient. As requirements for functionality of devices are increasing, including audio/video output, network- and USB connectivity, as well as a possibility to be programmed by a user, to change firmware, etc, the development is more and more demanding. For small and middle-sized companies it can easily happen, that in respect to a supposed sale, the expenses will never return. In the most cases, it´s better and at the end of the day even cheaper to rely on some of so called embedded modules. An embedded module (depending on a type) usually provides all necessary for controlling of our device and it is usually easily programmable thanks to a standard OS implemented (Linux, Android, Windows,...).
Embedded Artists products
are based on top-class
NXP processors LPC
with Cortex M0, Cortex M3 and Cortex M4 cores, but also on older ARM7. As Embedded Artists have a closed cooperation with NXP (they are an NXP certified partner), they have an excellent knowledge of these perspective chips. Among Embedded Artists can be found:
● development kits
● OEM boards suitable for direct usage in products
● "quick-start" boards
● education boards
● display boards
● various accessories for development support
From a final product and production point of view, the most interesting are the OEM modules. Embedded Artists provides a wide support to their products and for example notes for usage of OEM modules in praxis can be found in the OEM Integration guide. An example of a price calculation - decision "own development or an embedded module" is illustrated in the attached picture. Many Embedded Artists products are in our stock ready for immediate shipment. We´re able to deliver you any other Embedded Artists product with a short leadtime.

In case of interest, please contact us at info@soselectronic.com.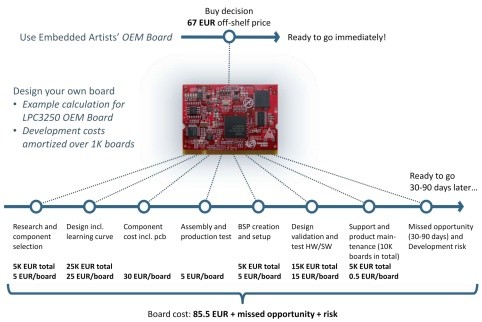 Advantages / Features:
top-class modules with NXP processors

excellent price/ performance ratio

development kits as well as cheap OEM modules available

various accessories including LCD modules and the e-paper module available
Do not miss these articles
Do you like our articles? Do not miss any of them! You do not have to worry about anything, we will arrange delivery to you.