At purchase of any HAMEG digital storage oscilloscope from 7xx,10xx,15xx to 20xx series within the year 2011, you wil gain the serial bus analysis option with a value of 190 EUR for free.
This is an archive article published 11/09/2011. Some information may no longer be up to date and in line with the current state. Please contact us in case of interest.
Together with a lot of useful functions which new HAMEG HMO digital storage oscilloscopes feature, HAMEG Instruments (a Rohde&Schwarz company) offers an extra bonus. At purchase of any of the above-mentioned oscilloscopes until the end of year 2011, you will gain the option 2011 for free – a license key enabling to analyse I2C, SPI a UART/RS-232 serial bus. Thanks to this function you can save a lot effort at development or service of devices, which use these communication protocols.
The option HO011 uses analog inputs and the trigger input, thus it isn´t necessary to buy any external logical sond. It offers a real time hardware accelerated decode. Values are displayed colour coded for intuitive analysis and an easy overview. Up to 4 lines are displayed for a comfortable display of decoded values. Decoding is into ASCII, bináry, hexadecimal or decimal format. HO011 also features a powerful trigger to isolate specific messages. You can download the HMO user manual, where you can find the detailed description of serial bus analysing on pages 37-41.
Selected types are on stock, upon request we can supply any other HAMEG DSO. In case of interest, please contact us at
info@soselectronic.com
.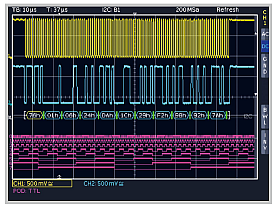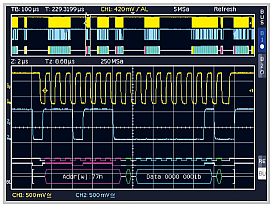 Videos
Dave caught up with Richard Popple from Rohde & Schwarz to talk about the new Hameg oscilloscopes, the Hameg acquisition, and the Rohde & Schwarz Scope of the Art oscilloscopes.
Advantages/ Features:
decodes I2C, SPI, UART/RS-232 bus

hardware accelerated decode in real time

color coded display of the content for intuitive analysis and easy overview

more details become visible with the increasing zoom factor

bus display with synchronous display of the data and clock signal

decode into ASCII, binary, hexadecimal or decimal format

up to 4 lines to comfortably show decoded values

powerful trigger to isolate specific messages
Do not miss these articles
Do you like our articles? Do not miss any of them! You do not have to worry about anything, we will arrange delivery to you.