Compact RFID modules ID12 and ID20 can be marked by right as simple to use and reliable RFID components working with 125 kHz frequency.
This is an archive article published 06/27/2012. Some information may no longer be up to date and in line with the current state. Please contact us in case of interest.
Both types contain an internal antenna, thus eliminating the need of its design, production and tuning of a resonant circuit. Further, modules ID12 and ID20 contain all necessary circuitry, that´s why to produce a working RFID device, it is only necessary to connect these modules to a control unit – most often to a microcontroller. It can be said, that ID12 and ID20 represent a ready-to-use solution for a very affordable price.
If you take a look at the ID12/ID20 application circuit, you´ll find it extremely simple and also the same for both types. The main difference for both types is the range – ID12 has a 12+cm range and ID20 has 16+ cm. Corresponding to their range, has ID12 smaller dimensions and a lower power consumption than ID20.

In case, that you prefer an external antenna, you can use the ID2, module delivered with a wire-wound antenna, which only needs to be suitably placed and connected to the module. For some applications also the version of ID12 with an USB interface can be convenient – ID2-ID12USB, which can be connected directly to a PC. In case, you prefer MIFARE® RFID (13,56 MHz), you can use the ID20MFIA module.

Detailed information will provide you the ID2-ID20, ID12USB and ID20MFIA datasheets.
In case of interest, please contact us at info@soselectronic.com.
MIFARE® and MIFARE Classic® are registered trademarks of NXP B.V.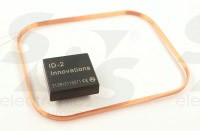 Advantages / Features:
the ready-made RFID solution with an integrated antenna

compact dimensions

very simple application

more versions available
Do not miss these articles
Do you like our articles? Do not miss any of them! You do not have to worry about anything, we will arrange delivery to you.