Proximity sensors working on an induction principle are able to detect ferrous and non-ferrous metals very reliably.
This is an archive article published 10/16/2014. Some information may no longer be up to date and in line with the current state. Please contact us in case of interest.
For those of you, who already work in this field, there´s everything clear for you probably and you know well, that induction sensors are literally one of the keystones for an industrial automation. For all of you, who´re not familiar with these important components yet, we bring this short description.
Induction sensors use the fact, that metal parts placed near an oscillator coil are able to change condition in a given oscillating circuit. Such a change (stopping of oscillations) can be reliably evaluated and to gain a confirmation about a presence of a metal subject in the sensor´s range. Induction sensors typically work on a frequency of hundreds of Hz up to a few kHz.
The bigger the size of a coil (and also a sensor), usually the higher is the resulting sensitivity of a sensor (sensing range). But at the same time a bigger sensor usually works on a lower frequency, that´s why even a maximum sensing frequency is lower. From this reason it´s usually better to use a smaller type to detect fast moving objects.

Omron, as a top class producer of industrial sensors has in its portfolio a lot of series of induction proximity sensors, in numerous versions. A typical representative of well-known widely used sensors is the Omron E2A series. E2A has increased detection range and it´s encapsulated in a body from a nickel pated brass (M12-M30) or a stainless steel (M8). A lot of versions and diameters can be found here (M8/M12/M18/M30), versions with connectors or wire leads and also shielded and unshielded versions.
"Shielded" means, that a metal sensor body reaches up to the front (sensing) portion of a sensor. In case of non-shielded versions the metal package is shorter, i.e. the plastic part seems to stand out of the sensor body. The result is that a non-shielded version is more sensitive even to sides (x), what can be advantageous in some applications. On the other hand, shielded versions provide possibility of a very close assembly of sensors next to each other. Series E2A has a high resistance to dust and water (IP67/ IP69k), shocks, vibrations, heat as well as electromagnetic interference.
E2A series is primarily intended for ferrous metals, but with a smaller sensitivity it´s also usable for non-ferrous metals. However in the Omron offer can be found series specially intended for aluminium and other non-ferrous metals and even types which are non-sensitive to ferrous metals.
A typical output of an induction sensor is a transistor (open collector) - PNP or NPN with protection components (diode + transil). Output transistor can be used to connect to an intelligent control unit, or for direct switching of circuits, or switching of relays.
Overview of Omron offer and hints for usage can be found in the Omron induction sensors application guide. Detailed description of the E2A brings the Omron E2A datasheet. Answers to many questions can be found on the Omron proximity sensors FAQs webpage. In case of interest in any Omron product please contact us at info@soselectronic.com.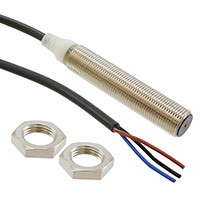 Advantages/ Features of the E2A series:
induction proximity sensors (non-contact) with increased sensing range

sensing range 2-30mm (depending on a type)

dust, smoke, water or oil don´t affect detection

wide range of working temperatures -40 to +70°C

IP 67 (IEC60529), IP69k (DIN 40050 part 9)

resistant to vibrations and EMI

12-24V power supply (operating range 10-32V)

NPN or PNP transistor output, 3 wires (NO or NC) or 4 wires (NO+NC)

simple installation by means of 2 nuts
Do not miss these articles
Do you like our articles? Do not miss any of them! You do not have to worry about anything, we will arrange delivery to you.