The scanner modules and fixed-mount scanners from Opticon are miniature in size and can be easily integrated into your device. They are an ideal solution for devices such as vending machines, kiosks, parking systems and much more.
This is an archive article published 04/09/2021. Some information may no longer be up to date and in line with the current state. Please contact us in case of interest.
More than 40 years ago, Opticon has been one of the first companies in the world to specialize in the manufacturing of barcode scanners. Opticon delivers solutions combined with the latest technologies and focuses on delivering high-quality products.
They offer a complete range of OEM scan engines, ranging from entry-level, cost-effective engines to high-performance 2D imagers, allowing you to select the module that best suits your application for the lowest possible cost.

Scanner Modules
2D CMOS Sensor Based Modules
The modules consist of a CMOS sensor with a small len, a high-performance microprocessor with a large memory, which processes the images supplied by the camera, decodes them and provides the decoded data via serial UART or USB interfaces.
CMOS sensor is similar to the sensor commonly used in smartphones; however, it comes with a few important differences, making the Opticon scanner module much more suitable for reading 2D barcodes than a smartphone.
The consequences of scanning fast-moving barcodes using a sensor with a rolling shutter are nicely illustrated in this video.
MDI-4000 2D CMOS scanner module and NLV-5201 fixed 2D CMOS scanner:


1D CCD Sensor Based Modules
The CCD module has a built-in LED that illuminates the barcode. The reflected light is captured by a single-line CCD sensor, which converts the light into an electrical signal. This signal is then amplified and led to a microcontroller, which decodes it and provides the decoded data via UART or USB serial interfaces.
A schematic view of this process is as below:

1D CCD module of MDC-100A scanner and fixed 1D CCD scanner NLV-4001: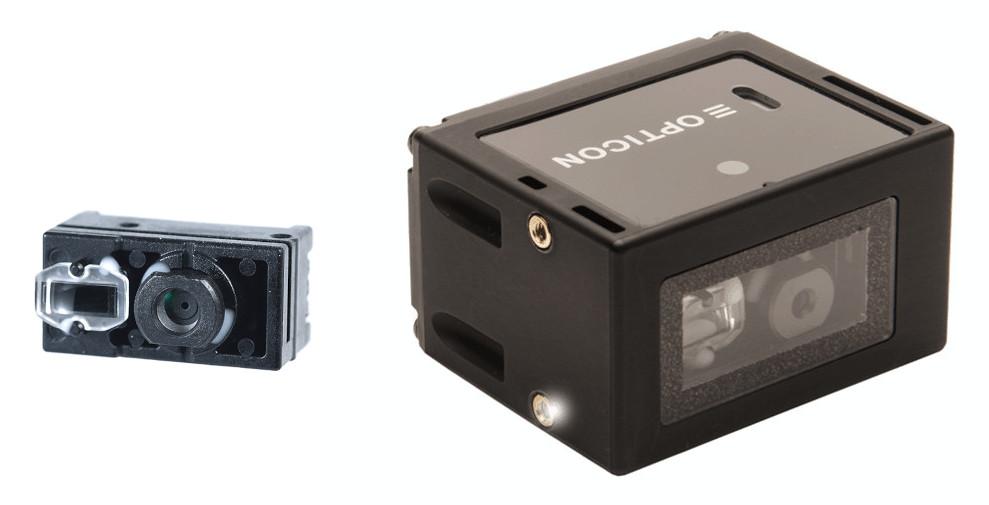 Advantages of CCD modules:
● Extremely robust because they have no moving parts
● Cheap due to the relatively simple construction
● Compact dimensions
● Low power consumption

Disadvantages of CCD modules:
● Limited depth of field (DoF)
● Less suitable for high-resolution labels
● They are not able to read 2D codes

1D Laser Modules
The module contains a laser aimed at a vibrating or rotating mirror, which changes the point to a laser line. This laser line is aimed at a barcode that reflects light back into the module. The same mirror as used to create the laser line is then used to direct the reflected laser light to the photodetector. The output from the detector is then amplified, filtered and led to a microcontroller, which decodes the signal and provides the decoded data via UART or USB serial interfaces.
A schematic overview of this process is shown below: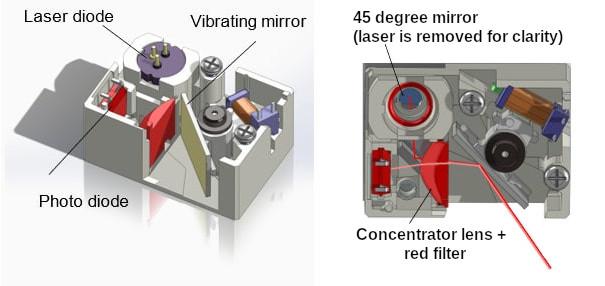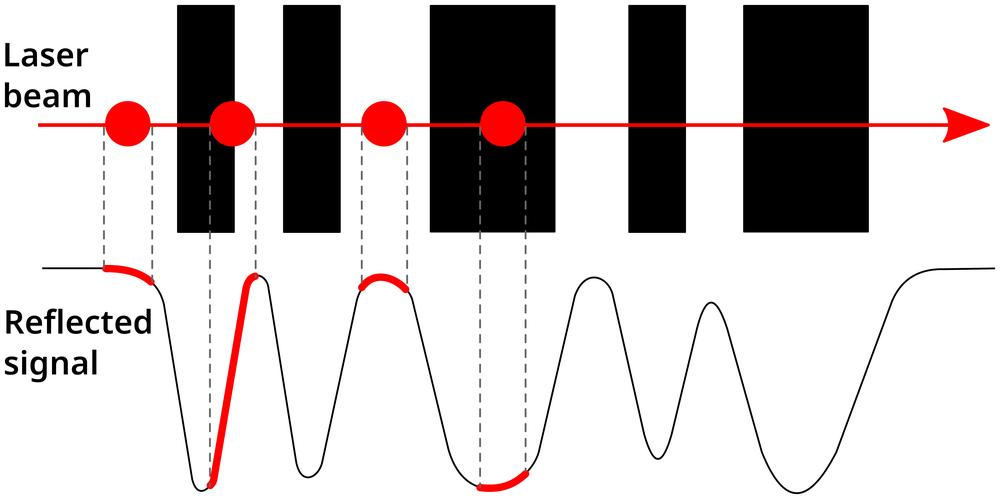 Advantages of laser modules:
● Cheap because they can use cheap, medium performance microcontroller
● Can read high-resolution barcode
● Large depth of field
● Low power consumption
● Fast scan rate (on certain models)

Disadvantages of laser modules:
● Cannot read from an LCD screen
● Cannot read 2D codes
1D laser module of MDC-1500 scanner and fixed 1D CCD scanner NLV-1001: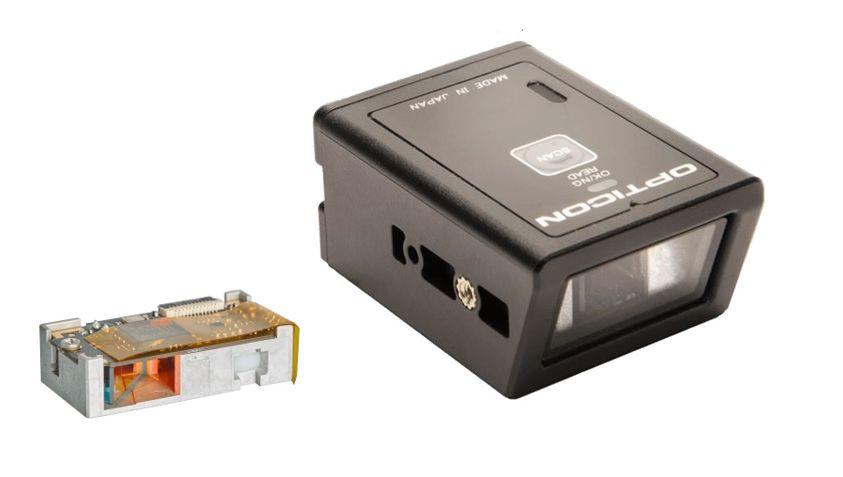 Fixed Mount Scanners
Opticon's fixed-mount scanners are actually scanner modules with additional electronics that provide the supply voltage for the module and the RS232 or USB interface, mounted in a rugged housing.

MEK-3100 Development Kit
MEK-3100 is a universal development kit for Opticon scanning modules. It contains all the hardware you need to get started.
Insert the plastic standoffs into the holes on the MEK-3100 PCB, mount the module of your choice on the PCB, connect the module to the PCB with an FFC cable, connect the power supply, connect the kit to the computer with the supplied RS-232 or USB cable and you are ready to start.
We added the most popular fixed mount scanners, scanner modules and MEK-3100 development kit to our stock.
In case you need more information about Opticon products, we are ready to help you out at sales@soselectronic.com

Videos
Wide range of OEM&Fixed mount scanners which are used in the most demanding applications requiring a device capable of reading 1D and 2D barcodes. Stationary barcode scanners are the easiest way to integrate a scanner component into your product or business process.
Do not miss these articles
Do you like our articles? Do not miss any of them! You do not have to worry about anything, we will arrange delivery to you.