Rohde&Schwarz oscilloscopes with the basic 50/70 MHz bandwidth with a full package of all available SW options, including decoding of most buses, are now available especially for high schools and universities at very advantageous prices.
Rohde&Schwarz coming up with a new promo "Today's solution for tomorrow's challenge"! From 1.4.2023 to 30.9.2023, the German manufacturer offers oscilloscopes, analyzers and power supplies in full equipment at exceptional prices with a discount of up to 49%. For more detailed information, read this article.
Rohde & Schwarz oscilloscopes for high schools and universities
At the same time, there is yet another and even more advantageous "EDU" offer for high schools and universities for selected oscilloscopes with significantly lower prices.
It concerns these three oscilloscopes - RTC1002 EDU, RTB2002 EDU and RTB 2004 EDU also with a full package of all available SW options, the so-called PK1 App bundle. 
This means that in addition to the rich basic equipment, it additionally also includes:
Triggering and decoding for: I²C, SPI, UART/RS-232/RS-422/RS-485, CAN and LIN buses
Possibility to generate your own waveforms and samples "arbitrary and pattern generator" 
Moreover, RTB2002 EDU and RTB2004 EDU come up with history, segmented memory and frequency analysis (Bode plot)
Overview of available oscilloscopes from the EDU offer:
RTC1002 EDU: 50 MHz, 2 channels, PK1 App Bundle
RTB2002 EDU: 70 MHz, 2 channels, PK1 App Bundle
RTB2004 EDU: 70 MHz, 4 channels, PK1 App Bundle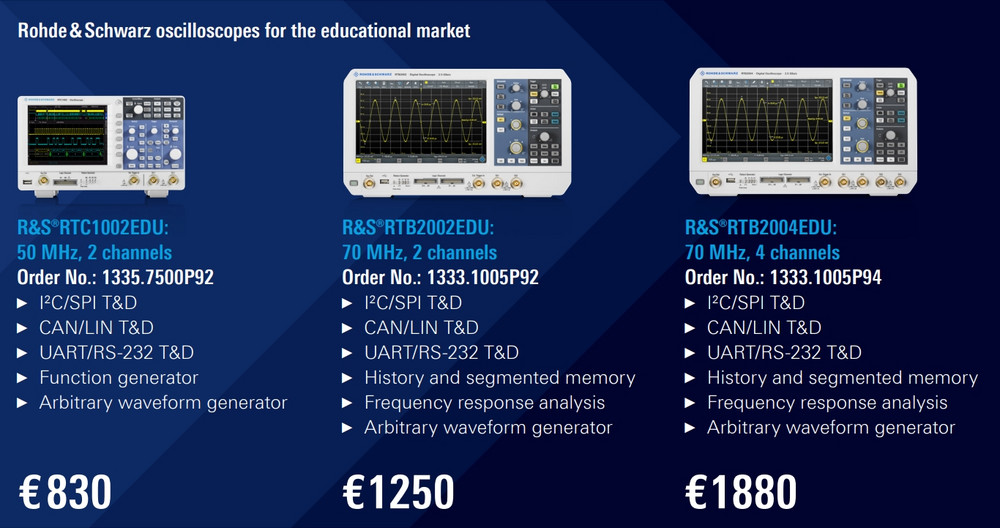 Usually, these oscilloscopes in the same equipment are available for at least twice the price. How do the oscilloscopes for schools differ from the same devices from the current Rohde&Schwarz offer? The oscilloscopes for schools are in the basic bandwidth of 50/70 MHz (but not the maximum).
For school measurements, this range is, in most cases, perfectly sufficient. However, if necessary, you can additionally expand the bandwidth at any time in the future by purchasing an SW license. Thanks to this, you can measure with professional equipment even at school.
 With this special offer for high schools and universities, you can save up to 30-50% compared to a regular EDU discount.
We can offer you Rohde & Schwarz products and support in the following markets: Slovak Republic, Czech Republic, Hungary and Romania. If you have any further questions, do not hesitate to contact us. We will be happy to advise you or help you choose a suitable device for your school. Fill in the following form, we will be happy to help you.
Do not miss these articles
Do you like our articles? Do not miss any of them! You do not have to worry about anything, we will arrange delivery to you.