Humidity can be measured by various sensors, but sensors SHT from company Sensirion add many benefits moreover.
This is an archive article published 08/16/2013. Some information may no longer be up to date and in line with the current state. Please contact us in case of interest.
To be exact, a word "sensors" is not a suitable expression in this case. As SHT series sensors contain on one chip humidity and temperature sensor, precise supply, low noise linear amplifier, AD converter and a serial interface, they represent a ready-made "device". Moreover, they´re calibrated, thus to get an exact value it´s only necessary to read out data through a serial interface. In case of SHT2x series, it´s a standard, easy-to-implement I2C interface.

Sensirion sensors SHT2x series was more in detail introduced to you in our article "New sensors Sensirion will take you only 3x3mm on PCB!", that´s why we´d like to bring you mainly few tips for simplification of development now.
For further information about Sensirion products please contact us at info@soselectronic.com.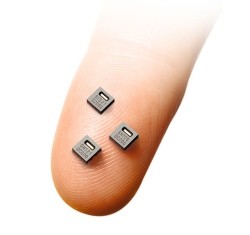 Advantages / Features:
relative humidity and temperature measurment in one component

individually calibrated in a precise humidity chamber

extremely compact dimensions 3 x 3 x 1,1 mm

digital outpt with I2C interface (Hold/No Hold Master)

outstanding reliability and long-term stability

12 bit resolution for relative humidity and 14 bits for temperature

measuring range 0-100% RH,-40 to +125 °C

average consumption only 3.2 uW at 1 measurement per sec/8 bit/RH (SHT2x)

average consumption only 3.2 uW at 1 measurement per sec/11 bit/Temp. (STS21)

insensitivity to external disturbances (EMC)

SMT package DFN3-0, reflow solderable
Do not miss these articles
Do you like our articles? Do not miss any of them! You do not have to worry about anything, we will arrange delivery to you.