Solarfam's 20W or 30W photovoltaic panels are an excellent solution for small stand-alone solar applications. All the necessary components for small projects using solar energy can be found in our assortment. Let's take a closer look. (reading for 3 minutes)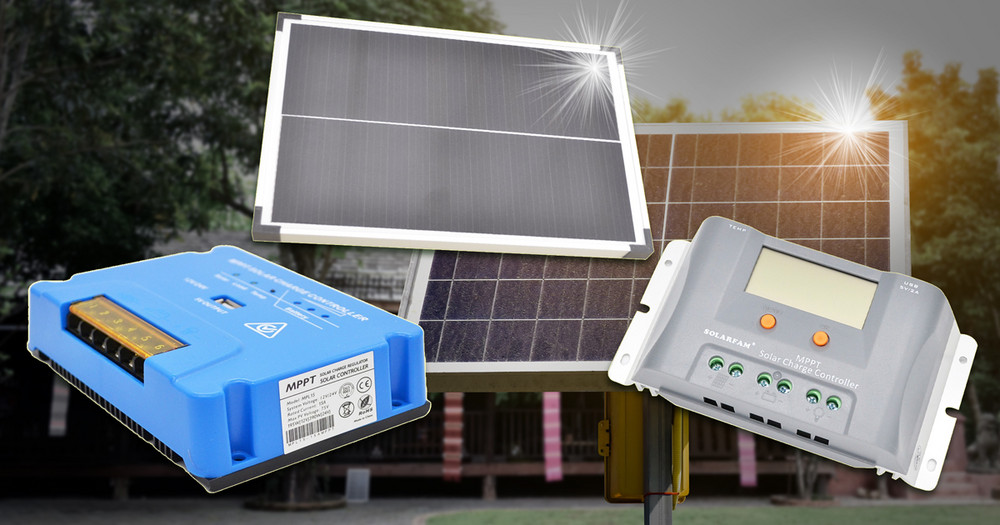 An off-grid solar power system (a stand-alone PV system) is an autonomous energy source and is a solution for many applications that we do not have or do not want to have connected to the mains power supply system (on-grid). However, this system needs to be properly sized to meet daily energy consumption and be able to replace the energy used from the battery.
The product manager from SOS electronic, František Ďuríšek, will present a comprehensive solution for an off-grid application for powering electrical devices with small power, which can find their application in industry, in public spaces, in households and in recreational conditions. 
The most frequently used off-grid applications that are using solar panels with low power: 
autonomous street lamp – parks, parking lots, bus stops
powering the camera system
security device of the building or garden
power source for the irrigation system
aerating the water in the pond
measuring the level of streams and rivers
remote sensing and measurement of various parameters – telemetry 
What do we need to build an off-grid application?
"I have expanded our SOS electronic product range by Solarfam photovoltaic panels (PV panels). And to make the building of our own off-grid system really simple and quick, I have also added all other necessary components, such as power connectors, a suitable cable, but also a controller and a battery," says František Ďurišek.
The list of all available products for a small solar stand-alone PV system can be found in our stock offer and also directly below the article. 
Solarfam solar panel for 20W and 30W
"In my experience, to power the devices with lower power, it is sufficient to use a 20W-30W solar panel. Too big solar panel takes up a lot of space, and the pole on which it would be placed must already have a more robust construction, and the solution for using solar energy becomes unnecessarily expensive right from the start," continues František Ďurišek, product specialist from SOS electronic. 
We have therefore included 2 types of solar panels in our range of alternative energy sources:  
20W solar monocrystalline Solarfam panel marked as SZ-20-32M, with a black anodized aluminium frame and freely led terminals. In this case, we have 2 options for connection. The first one is to add connectors and connect a longer cable. In the second case, when we want to have the controller and the battery in the box as close as possible to the solar panel, we pass the leads through a grommet, for example, M 12 x 1.5 ECO, directly into the box.
The 30W solar panel Solarfam SZ-30-36M already has the connectors installed, so we only need to purchase the corresponding counterparts, which we mention in the next paragraph.
Power connectors with 2.5 mm2 copper cross-section
We have selected two STÄUBLI DC power connectors for small power solar panels, namely PV-KST4/2.5 PV and PV-KBT4/2.5 PV. 
We focused on power connectors with a small cross-section because the market usually offers connectors with larger cross-sections, namely 4 mm2 or 6 mm2. Of course, we can also use larger cross-sections, but for our needs, it is an unnecessary solution. Larger cross-sections have no advantage in our case and are usually more expensive.
Solar cable
An important part of every solar project is a cable especially suitable for photovoltaics for indoor and outdoor use. 
For selected connectors for cables with a copper cross-section of 2.5 mm2, we recommend using the 1-core cable FLEX-SOL-EVO-TX 2.5 1m (62.7430-91021) by Stäubli, which is pleasantly flexible and lighter than cables with a larger copper cross-section. The insulation resists UV radiation and weather effects well.
For reliable crimping of the connectors' contacts to the solar cable, we recommend using crimping pliers PV-CZM-BS (32.6025), again by Stäubli.
MPPT solar controller. With or without the display?
Another important part of the solar off-grid power system is the controller. There are 2 types of controllers that are very well-known on the market. These are PWM and MPPT controllers. When connecting a solar panel with a controller of an MPPT type, we get approximately 20% more energy compared to a PWM controller.
We have selected 2 types of solar MPPT controllers by Solarfam: 
MPL15 (12/24 V, 15 A), to which we can only connect a lead battery, and
SX1045 (12 V, 10 A), in which we can choose the type of battery - either lead or LiFePO4 battery. Moreover, this controller has an LCD display, on which we can set the aforementioned type of accumulator, as well as the points of disconnection of appliances from the accumulator, then it can also display the voltage in the system, the battery status and monitor the charging status during the day. This solar controller has a port for temperature sensor and IP32 protection.
Both solar controllers also have a 5V output for connecting any device. It is true that both regulators are quite a bit oversized, but their parameters also fully suit our small stand-alone solar power systems.
Batteries
The last and most important part of our off-grid solar system is the battery. We choose it according to the type of application and how we use our solar system.  
"However, when it comes to batteries, we must remember that even for photovoltaic panels with small outputs, the accumulator must not be undersized, so that we are not surprised by, for example, long rainy days," continues František Ďurišek.  
As the first choice, we recommend these two lead batteries:  
NP12-12 – lead-acid battery 12V, 12 Ah Yuasa, as a minimum battery capacity for a small solar device.
But if we find out during the device testing that it is not enough, don't be afraid to use a battery with a larger capacity. For example, SWL780V with a capacity of up to 28 Ah in a set with 2 panels that can be turned to different angles in order to use the energy of the sun for a longer time.
However, we can also connect LiFePO4 batteries to the SX1045 solar controller, for example, XCell 12.8-6 (LFP126) or CE-12/20, which can be more cost-effective in the long run. 
Tip for extending the off-grid solar system 
If during the use of our photovoltaic system, we find that we still have a lack of energy, we can easily add another solar panel in series or in parallel. In addition, if we connect it at a different angle, we can use sunlight more efficiently throughout the day.
The solar controllers we selected for this off-the-grid system allow such a configuration. We can connect the MPL15 controller to 2 solar panels in series without any problems because the maximum input voltage from the panels to the regulator is 75V.
If we use the SX1045 controller and solar panels wired in series, the maximum input voltage of the regulator is 45V, which already puts us at the limit of the permissible voltage. We could protect the inputs with a varistor, or simply connect the solar panels in parallel.
We believe that this article was inspirational for you to try and build your off-the-grid solar power system for a wide range of applications. 
Are you interested in more information on Solarfam products or technical advice on choosing a suitable solution? Or do you have another question or request? Please fill out the following form, we will be happy to help you.
Do not miss these articles
Do you like our articles? Do not miss any of them! You do not have to worry about anything, we will arrange delivery to you.