80 dB acoustic signal at the only 3V power supply and a really miniature size rank this component in the TOP class. It is suitable for general use wherever a reliable buzzer is necessary, including demanding industrial conditions.
This is an archive article published 08/18/2021. Some information may no longer be up to date and in line with the current state. Please contact us in case of interest.
Belgian company
Sonitron
n and its top-level products are probably familiar to you from our 
articles
and offer in this segment.
We continue to extend the standard stock types offer, including one extraordinarily interesting type – SMA-13LV, interesting mainly for low-voltage applications.
Series of buzzers marked as "SMA" is known for its variety as it contains types with the loudness of 75-98 dB, THT, and SMT versions, and versions with stable, as well as intermittent signal. Moreover, various sizes from 13 to 30 mm with a pitch of 7.5 to 20.32 mm enable selecting the right type for a given application. In general, bigger types provide a louder signal, but it depends on a concrete type.
This series is suitable for general use wherever a reliable buzzer is necessary, including industrial conditions.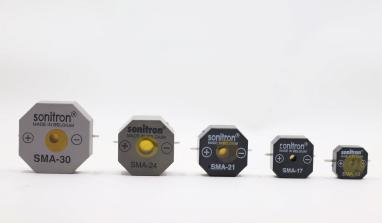 For successful use, it´s only necessary to connect a suitable supply voltage, which is usually in an extensive range (for example, 1.5-15V).
Usually, at the upper end of a supply voltage range for a given type, we get the highest loudness and, at lower voltages, a higher lifetime.
Very similar is also the SMAT series (transducers), which in contrast to the SMA series, doesn´t contain a driver, and therefore it needs external electronics.

For really demanding conditions, the Sonitron SAP series is suitable.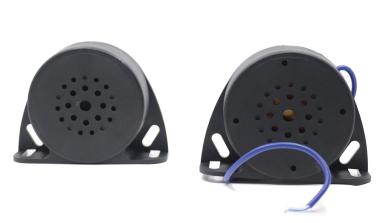 These are the buzzers for various usage in traffic, for example, as a reverse movement indicator (danger of close approximation). They excel in extreme rigidity, which makes them widely used even in avionics, military and trucks. SAP series has a specific use, and therefore they are available upon request.
Other products in our standard stock offer can be found among goods below this article. Detailed information can be found in datasheets at particular types and in the Sonitron catalogue.
In case of your interest, we are ready to help you at sales@soselectronic.com.
Advantages/ Features:
top products from a producer with over 35 years of experience in the development and production of piezo buzzers

available in various versions, including SMT/THT and low voltage types (LV)

majority of types is usable in an extensive range of supply voltages
Do not miss these articles
Do you like our articles? Do not miss any of them! You do not have to worry about anything, we will arrange delivery to you.