This year was dedicated to our
20th anniversary
. By all of our activities, we tried to get closer to you and your needs. We brought you the combination of tradition and novelties.
This is an archive article published 12/22/2011. Some information may no longer be up to date and in line with the current state. Please contact us in case of interest.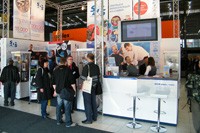 At the beginning of the year, we threw our marketing strength in traditional exhibitions. The first exhibit stop we had a in the Czech Republic in Brno, where after long years moved Amper. exhibition. Immediately after the Brno we loaded suitcases and cars hit the road to Poland, where it directly in Warsaw held another of our traditional exhibitions Automaticon.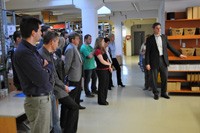 Even after end of the Automaticon we did not stop in meetings with you and we continued on. This time we decided to open our doors wide open and show you our company from the inside. The motto "better to see once than to hear 100 times" we prepare Open Days for our Hungarian customers and with humorous and entertaining way showed the backstage of our kitchen.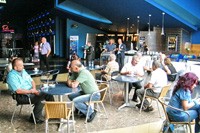 Our journey to our customers continued in June, when we bring you further news - the great international
Roadshow
, held in Bratislava, Brno, Budapest and Kosice. The aim of this event was to provide all the information to you personally and first hand directly from our suppliers, all with the comfort, fun and informal atmosphere of the film world.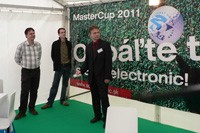 The Final of International SOS electronic exhibition season 2011 was traditionally held in Slovakia in Trencin at exhibition Elosys. We are very pleased that despite the hectic period you have in your busy schedule found time for a personal meeting with us on this show. Thanks to you our meetings were marked by a pleasant and open atmosphere, which was also enhanced by your performance in professional SOS golf tournament. Tiger Woods should reflect the strength of competition, that it grows in your ranks: o).
But this year was not just about personal meeting, but also about a unique gift that we have kept getting ready for you during the year . Among the gifts that you might find this year were more often issued and better product articles, we began to send you through our improved newsletter system according to your requirements and frequency content. There was also gifts for monthly special offers. We have expanded our loyalty program sprogram to the customer from the Czech Republic, Hungary and Poland, where, also together with Slovak customers could choose from a wide range of gifts as a reward for purchases. As an absolute news we launched online SOS cinema. Through video we bring you information about our products, their advantages and efficiency of use, but also about what is happening in our company. All of this quickly and conveniently.

We hope that all our activities are for you and your business benefit, because your satisfaction is most important for us.

In 2011 we wanted to be closer to you. We believe we succeeded. Your positive replies reflect to it and this is obligation for us.
That's why we want to be in 2012 even more closer to you!
Do not miss these articles
Do you like our articles? Do not miss any of them! You do not have to worry about anything, we will arrange delivery to you.