If you have visited our website and chosen from a large number of products, you have definitely used filtering according to various parameters. Now let's try something new and enter the search value directly into the full-search browser in the column of the given parameter. You will find the goods even faster and easier.
This is an archive article published 10/19/2020. Some information may no longer be up to date and in line with the current state. Please contact us in case of interest.
Searching via full-search is of great help when the given parameter has a lot of different values, and it would take a long time to scroll through the whole list or click on the required values.
Therefore, if the parameter has numerical values (e.g. voltage, current, etc.), you can choose the interval from-to. Learn more in this article.
In case the values are text, and there are many of them, use full-search browsing. In this case, the e-shop scans all values and selects only those that contain the entered text. The total number of results is, therefore, smaller, and the filtering is clearer.
Try it, for example, on the page with Ethernet modules.
Try to find all products that have a serial interface. You just need to enter the word "serial" in the appropriate box under the Interface parameter and only 6 of the original approx. 50 values will remain.
Press the ENTER key to filter and display only those products that meet the required parameter value.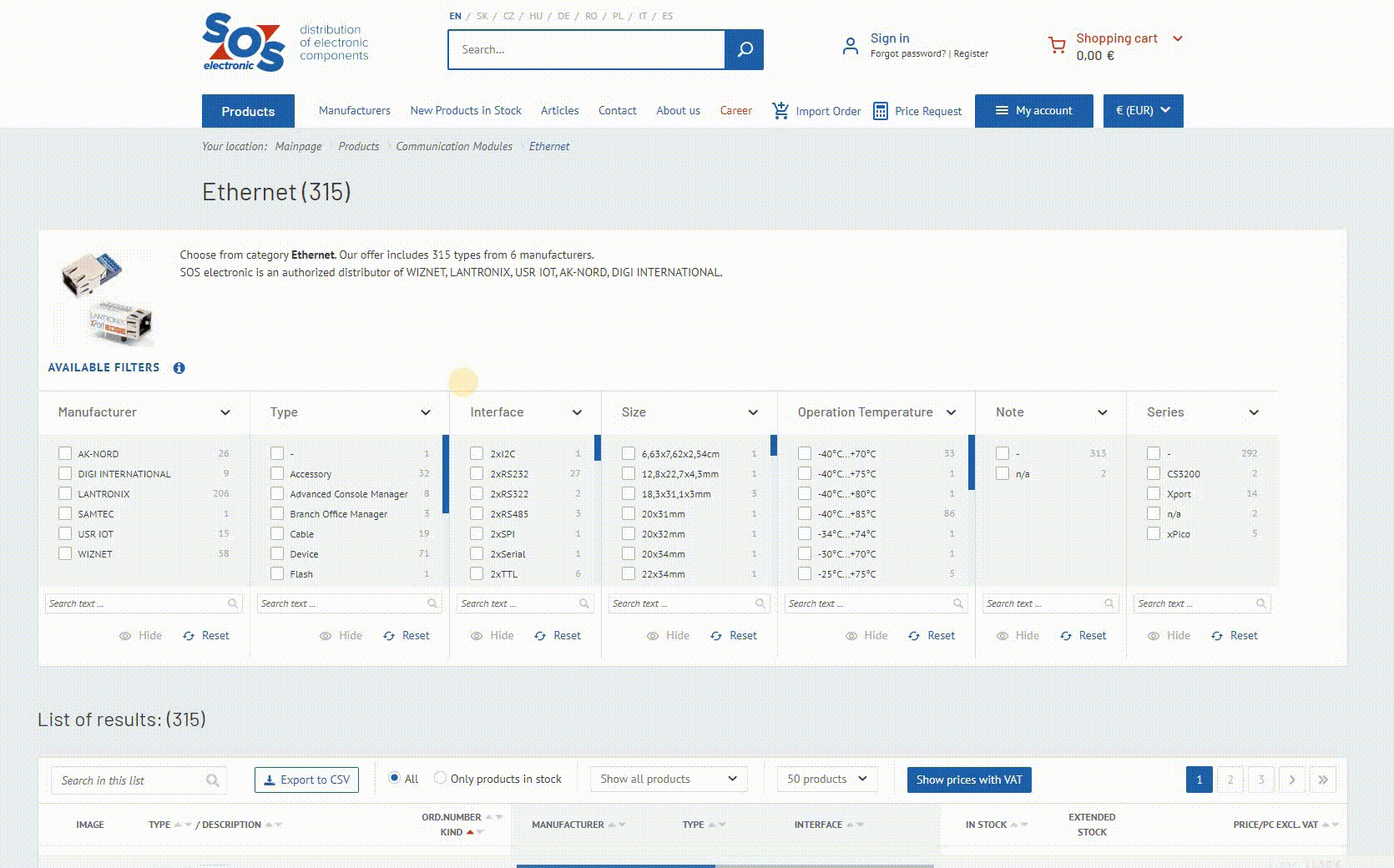 Apart from this method of filtering, you can also use alternative methods, known from Windows, to choose the desired interval:

Hold down the CTRL key on the keyboard and click on the desired values to select more values faster - without reloading the filters.
Hold down the SHIFT key on the keyboard to highlight a continuous range of values.
We believe that this improvement will make your work more pleasant and that you will find the selected product even faster and easier.
We will be happy to respond to your comments and suggestions at webmaster@soselectronic.com

Do not miss these articles
Do you like our articles? Do not miss any of them! You do not have to worry about anything, we will arrange delivery to you.