SOS electronic has developed over the course of three decades from a small Central European company into a recognized distributor of electronic components and technological solutions.

Source:SOS electronicIt delivers high-quality components from global manufacturers to customers in the field of industrial production to more than 100 countries around the world. The company has been strengthening its market position over the years with stable turnover growth, good payment discipline and a specialized product offer. It actively supports customers throughout the entire production process. Its strong background is supported also thanks to its parent company, the German holding company Conrad. The company sells its products through a direct sales representative in 6 countries and an e-commerce platform.
Highly reliable tax entity
Thanks to the favourable economic indicators of liquidity and profitability that the company SOS electronic has been showing for a long time, it was evaluated by the Financial Administration with the "highly reliable tax entity" index. The company received this highest possible tax reliability index for responsible fulfilment of tax obligations. At the same time, it maintains good payment discipline and the ability to pay invoices, on average 3 days before the due date.
International assessment of company stability
SOS electronic remained economically stable even during the unstable situation in the world. This assessment was provided by the American agency Dun & Bradstreet, which evaluates companies based on their business data. SOS electronic received a failure score of 100, which means no risk of failure. This is the highest score that a business entity can get. It should be noted that the average failure score in the industry in which SOS electronic also operates is 39. However, the company maintains a positive rating for a long time. The resulting score was not affected by the global covid-19 pandemic, the war conflict in Ukraine, the increase in energy prices or the high rate of inflation. Considering the stability of these indicators, the disruption of the company's economic growth in the next 12 months is evaluated at the lowest possible rate (0.01%)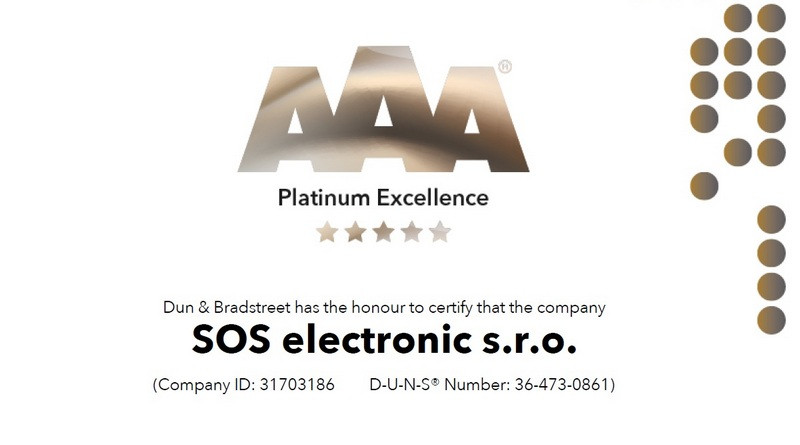 Long-term turnover growth thanks to the e-commerce platform 
The increasing interest of customers in supply services and the purchase of products has a positive effect on SOS electronic's economic indicators. The transformation of the company in terms of digitization had a direct impact on the turnover, which has been on an upward trend for years. Thanks to this platform, the company gradually became known to customers in countries throughout Europe, Asia, and the United States of America. 
Source: https://hnonline.sk/pr-clanky/96068368-sos-electronic-je-stabilnym-partnerom-aj-v-obdobi-recesie
---
Are you interested in more information? Or do you have another question or request? Fill in the following form, we will be happy to help you.
Do not miss these articles
Do you like our articles? Do not miss any of them! You do not have to worry about anything, we will arrange delivery to you.