Our partner MEDER electronic is a global leader in the design, development and manufacture of Reed Sensing and Reed Switching solutions with a selection from hundreds of Reed Switches, Reed Relays, Reed Sensors and Level Floats in highest quality.
This is an archive article published 04/19/2010. Some information may no longer be up to date and in line with the current state. Please contact us in case of interest.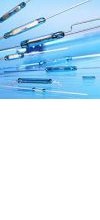 REED SWITCHES
Reed switches consist of two ferromagnetic blades of iron and nickel, hermetically sealed in a glass capsule. The switches are actuated through the introduction or removal of a magnetic field and are for use in wet and dirty environments.
Kinds of Reed Switches:
- Miniature (KSK-1A04, KSK-1A80)
- Standard (KSK-1A35, KSK-1A46, KSK-1A66, KSK-1A87)
- Power Reed (KSK-1A52, KSK-1A55, KSK-1A85)
- High Voltage (KSK-1A69, KSK-1A83, KSK-1A85)
- Change-Over (KSK-1C90U, KSK-1C90F)
- Special (KSK-1A53, KSK-1A54)
- Bistable / Latching (KSK-1E85)
- Customized
- Surface Mount (MK23)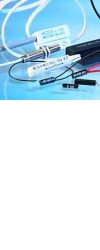 REED SENSORS & MAGNETS
Reed sensors are magnetically actuated proximity switches available in a variety of mounting options. The switching function is activated by the introduction or removal of a magnetic field.
Kinds of Reed Sensors & Magnets:
- Rectangular Form (MK02, MK04, MK05, MK09, MK12, MK13, MK21)
- Cylindrical Form (MK03, MK14, MK18, MK20/1)
- Threaded Cylindrical (MK07, MK11, MK11/M8)
- Through-Hole PCB-Sensors (MK02/6, MK06)
- SMD Sensors (MK01, MK15, MK16, MK17, MK22, MK23, MK24, MMS)
- Ex-approved Sensors (MK08, MK25)
- Bistable Sensors (MK06-1E)
- Panel Mount Sensors (MK02, MK03, MK04, MK05, MK07, MK11, MK11/M8, MK12, MK13, MK14, MK18, MK20/1, MK21)
- Metal Detection (MK02, MK02/6)
- Magnets in Casing
- Permanent Magnets
REED RELAYS & OPTO-COUPLERS
Reed relays are ideal for applications requiring low and stable contact resistance, low capacitance, high insulation resistance, long life and small package size. They are also suitable for high RF switching and low current switching.
Kinds of Reed Relays & Opto-Couplers:
- General Purpose Relays (DIL, BE, NP, DIP, SIL, MS)
- SMD Reed Relays (CRF, CRR, RM modul)
- Low Thermal Voltage (BT)
- High Insulation Relays (HI, BE-HI, MRE-HI)
- High Voltage Relays (H, HE, HM, LI, SIL HV)
- High Frequency Relays (CRF, HF, LP, MRE, SIL RF)
- Relay Module (RM modul, RM-THT)
- Ex-approved Relays (MRX)
- Bistable / Latching Relays (BE, MRE)
- Current Loop Relays (DIL-CL, NP-CL, SIL-CL)
- Opto-Couplers (575, 522, 525, 535, 567)

LEVEL SENSORS & FLOATS
Level sensors are reliable and low cost solution for sensing liquid levels. A wide range of magnets and magnets floats of different materials and versions can be used with our reed switches and reed sensors for a variety of level detection applications.
Kinds:
- Level Sensors (LS01, LS02, LS03, LS04, LS05)
- Magnetic Floats (NBR Floats, PA Floats, PP Floats, V2A Floats)
Do not miss these articles
Do you like our articles? Do not miss any of them! You do not have to worry about anything, we will arrange delivery to you.