RFID keyboard emulators are able to significantly simplify tracking of goods.
This is an archive article published 10/02/2014. Some information may no longer be up to date and in line with the current state. Please contact us in case of interest.
"Replacement" of a keyboard in a form of an RFID module connected to a USB port works very simply - UID of every tag, which will appear in its range will send to a computer - the same way as if we typed it in by a keyboard.
SL040A also enables us to choose, whether we want the reader to send only data, or also a "CR" character after every UID (as if an Enter key was hit). It means, that if we already have software to type in open (for example Excel), the reader itself will fill the cell with data and move the cursor to another cell.
SL040A is even able to read data (not only UID) from MIFARE® tags.
SL040A is also interesting by one feature - on a request from our company SOS electronic, the producer started to produce also the black version SL040A black. Thanks to the above-standard close relationship with the producers, we´re able to supply you even various special customized versions.
Detailed information will provide you the SL040A user manual.

In case of interest, please contact us at info@soselectronic.com.
MIFARE® and MIFARE Classic® are registered trademarks of NXP B.V.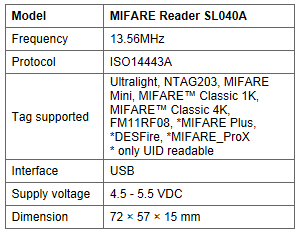 Advantages/ Features:
universal 13,56MHz RFID keyboard emulator with a USB interface

MIFARE® ultralight, 1K, 4K, mini, DESFire, NTAG203,...

very competitive price

CE a RoHS certificate

ideal for writing UID of tags directly into a PC

also reads data from MIFARE® tags
Do not miss these articles
Do you like our articles? Do not miss any of them! You do not have to worry about anything, we will arrange delivery to you.