For decades, friction and noise have been the root defects for conventional fan motors. Usually after long-term operation, abrasions would be caused by the rub between the shaft and the inner surface of the bearing, creating the noise and sway common in many convention fan motors. Sunonwealth has been dedicated to the development of a new motor structure to breakthrough this impasse and root out the imperfections of conventional fan motors. From this commitment and background MagLev has come in to its own.
This is an archive article published 03/07/2006. Some information may no longer be up to date and in line with the current state. Please contact us in case of interest.
When motor with the MagLev technology is in operation, the magnetic force between the permanent magnet in the hub and the magnetic plate mounted on the PCB helps to attract the impeller rotor towards the end point of shaft. The weight of the rotor is entirely neutralized by the magnetic force and enables the shaft to turn without being affected by the gravity.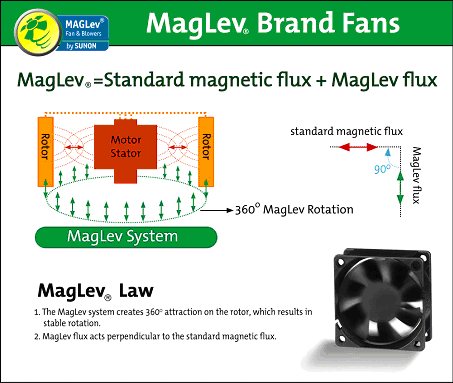 In this way, a constant distance between bearing and shaft is maintained naturally without causing any contact between the two surfaces. Therefore, when the fan is operating, the highly balanced rotor assembly rotates in nearly a perfect circular motion in a consistent orbit. The center of rotation of the rotor shaft is the true centerline of the shaft and the bearing assembly.
This phenomenon eliminates any rotational vibration and abrasions between the shaft and the inner surface of the bearing even in any mounted position.
Accordingly, MagLev system creates unprecedented vibration-free and, therefore, noise-free operating conditions for the fan. It is of particular interest to both the PC and IT sectors of industry for thermal management control. Because the shaft rotates evenly in a constant orbit and the rotor is held at a fixed centerline of rotation, no contact occured. No matter how the fan is mounted, during operation there is no friction or noise, and no slanting or wobbling. Which means the bearing life is greatly extended.
Do not miss these articles
Do you like our articles? Do not miss any of them! You do not have to worry about anything, we will arrange delivery to you.