To connect wire leads to LED panels is easy, elegant and professional with poke-in connectors from TE Connectivity.
This is an archive article published 10/27/2011. Some information may no longer be up to date and in line with the current state. Please contact us in case of interest.
How to connect wire leads to PCB so that they had a reliable contact and didn´t require hand soldering? We probably will get an idea of more possibilities by means of various terminals. But what a terminal or connector to use, so that it looked professionally, didn´t act disturbing and had a low profile which doesn´t shade LEDs?
Poke in connectors from TE Connectivity are designed specially for lighting purposes. They are available in an SMT as well as a THT version. High temperature material enables reflow soldering together with other SMT components. Connection of wires themselves then requires only a simple insertion of a wire with a 7mm stripped part. For a simple strip length check, the connector has the strip length gage.
Connectors are available with a standard as well as low insertion force. It is possible to use 18, 20 and 22 AWG wires, 18-20 AWG stranded pre-bond wires, as well as 18 AWG stranded wires. They have a low profile and rounded corners to minimize shadowing. Relatively robust construction and redundant pads increase mechanical stability and prevent peeling of connector from PCB. If using more connectors side by side, they are stackable with pads on 4mm centers. Flat top surface allows for problemless vacuum pickup. Connectors are available in 1 and 2 positions, in SMT as well as THT version. White (cream) or black colour enable to differ polarity. For a maximum corrosion protection in outdoor and humidity environment also gel-filled types are available.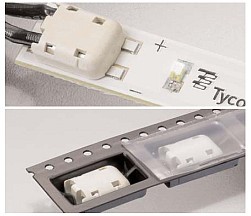 From our stock we offer you the 1954097-1 type 1954097-1a two position version in a white colour, which you can also see in a 3D view.

These connectors represent a cost effective alternatíive to hand soldering wires to PCB. Further information about other types from this series will provide you the overview of poke-in connectors TE Connectivity.
Advantages/ Features:
connector for a professional connectiont of wire leads to PCB

for 18, 20 a 22 AWG wires, as well as 18 and 20 AWG stranded wires

1 and 2 position versions available with a standard or a low insertion force

gel-filled versions available for usage outdoor or in a moisture environment

low profile and rounded corners for minimizing of shading

redundant SMT pads for a maximal mechanical stability

white or black colour for polarity severance

flat top surface for an easy pickup assembly

reflow process soldering

stackable side by side with pads pitch 4mm

cost effective alternative to hand soldering wire leads to PCB
Do not miss these articles
Do you like our articles? Do not miss any of them! You do not have to worry about anything, we will arrange delivery to you.