With the Traco TPC120 AC/DC module you´ll gain a reliable power source for an excellent price and you´ll easily meet even the newest energy regulations (ErP).
This is an archive article published 08/01/2013. Some information may no longer be up to date and in line with the current state. Please contact us in case of interest.
Swiss company Traco Electronic is known as a producer of top-quality switch-mode power supplies TracoPower used even in atomic power plants etc. In the portfolio of this company can be found various AC/DC and DC/DC modules usually meeting even the most stringent requirements. However because we don´t always need the very top features but rather so to say a "golden middle way", even in Traco products can be found series with outstanding price/ performance ratio. Into this category also belongs a novelty - series TPC with an output power of 30-120W.
Into our stable stock offer we added the most powerful version TPC120-112 and TPC120-124 with an output power of 120W and 12V or 24V output voltage. A great advantage is, that the power supplies meet the latest energy regulations about high efficiency in the whole power range (>87%) and about a low standby power consumption below 0.3 or 0.5W (depending on a type). They are intended for a DIN rail assembly or they can also be mounted on a wall by means of a plastic adapter plate. Adjustable output voltage in arrange of 12-15V or 24-28,8V enables to adjust the source exactly to your needs.
"Universal power source should also have a universal input" - such a slogan could be said even about the TPC series, because an input voltage can be AC or even DC in a wide range (85-264VAC/ 90-375VDC). To the versatility of use also contributes a "Power good" output, low ripple and noise, as well as an overload and shortcut protection. Also available is the optional TPC-REM240 module for a parallel and redundant operation. As we are already used to at the Traco Power mark, the power sources have a whole set of international safety approvals and a housing made of a self-extinguishing plastic (UL94V-0) also contributes to a safe operation. Detailed information can be found in the TPC datasheet and in the short overview of Traco power supplies. In case of interest, please contact us at info@soselectronic.com.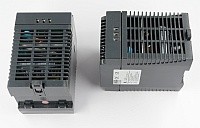 Advantages / Features:
universal industrial AC/DC power supplies with an excellent price/ performance ratio

on stock 120W/ 12V/8A and 120W/24V/5A versions

high efficiency in the whole power range

reliable assembly to a DIN rail or a wall

adjustable output voltage

"Power good" signal

remote On/Off

low ripple and noise

overload and shortcut protection

operating temperature range -25 to +70°C

also available a module for a parallel and redundant operation

international safety approvals
Do not miss these articles
Do you like our articles? Do not miss any of them! You do not have to worry about anything, we will arrange delivery to you.
Get a sample of the TPC120-112 power source for a great price!
Competition with the following question has been published here:
In what range can be the output voltage of TPC120-112 adjusted?
The correct answer was: 12-15V
We have drawn the following winners:
András Szeder [HU]
Congratulations to winners. We´ll inform them by e-mail.