UDOO as one of the most powerful embedded PC (SOM) of this date breaks borders in the price/ performance ratio.
This is an archive article published 05/07/2014. Some information may no longer be up to date and in line with the current state. Please contact us in case of interest.
There are several microcomputers on the market, which usually support OS Linux, Android or Windows. Their usage is so to say unlimited - from simpler devices, where we´ll use mainly a ready-made connectivity (USB, Ethernet, bluetooth, WiFi, ...) to more sophisticated applications in combination with TFT LCD and a powerful graphics, video, etc. Each type has its advantages (Voipac, Embedded artists, Beagle board, Friendly ARM, Raspberry Pi, ...) and one of the most surprising modules is surely the microcomputer UDOO. UDOO is a powerful single board embedded PC based on a powerful Freescale i.MX6 chip and it´s available in Dual or Quad core version.

In our offer can be found the more powerful Quad version (S975-G000-2100-C2, 1GHz), which is roughly 4x more powerful than for example Raspberry Pi. Power of this microcomputer is already really respectable and it manages various 3D visualizations, videos and (real time) communication through various interfaces. Interfaces - it´s the field where the UDOO excels, because it provides on one board interfaces like Gbit Ethernet, 4x USB, HDMI, WiFi, Touch, 76 GPIO, SATA, camera, microSD,... A big advantage is a full compatibility with an Arduino Mega 2560 platform (hardware and software)..
Functionality of the UDOO microcomputer is very wide and a detailed description can´t be summarized into a short article. The best overview of features and possibilities of this module will give you the attached video as well as basic UDOO user manual.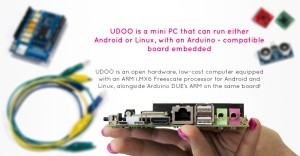 Videos
Advantages/ Features:
powerful Linux/ Android compatible microcomputer

Freescale i.MX6 6 ARM Cortes-A9 Quad core 1 GHz processor

1GB RAM DDR3

WiFi, HDMI a LVDS, 4x USB (+OTG)

integrated graphics, 3 accelerators

compatible with Arduino Mega 2560 SW a HW

10/100/1000 Mbit Ethernet

SATA, micro SD (boot), camera, analog audio

76 fully available GPIO

12V power supply 12V and an external battery connector

excellent price/ performance ratio
Do not miss these articles
Do you like our articles? Do not miss any of them! You do not have to worry about anything, we will arrange delivery to you.