Bare wires going from a tested device do not have to mean a problem or require a long time to connect to a power supply.
This is an archive article published 03/13/2014. Some information may no longer be up to date and in line with the current state. Please contact us in case of interest.
Who wouldn´t know it - a tested device on a workbench has only wire leads (without any connectors) and we just want to connect it to a power supply simply and reliably. If you don´t want to laboriously connect banana plugs to wire leads (what we surely don´t want if the test is supposed to last only a while :-)) we have only a possibility to use screw terminals on a given laboratory source. But usually neither this isn´t an ideal solution, as the openings in such terminals are usually quite small and if we want to put a wire only "between two pads" - it usually falls out at tightening...
Fortunately, there is one very handy component - "WAGO banana plug", i.e. banana plug with a spring clamp into which it´s possible to insert a wire immediately and without any tools. Similarly simply we´re able to loosen it in a fraction of second - by pressing a body of a plug. The principle of a terminal is the same as for example in lighting connectors Wago 224 series.

We believe that you´ll like this useful helper and you´ll find it belonging to a "must have" category. On stock we keep three color versions (black, red and blue) as well as a set of 50 pcs Wago 215-111 (mix of 5 colors in 10 pcs). Upon request we´re able to supply you any other color version.
Detailed description can be found at particular types.
In case of interest, please contact us at info@soselectronic.com.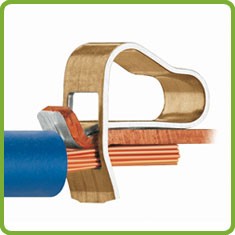 Advantages/ Features:
banana with a spring Cage Clamp

exquisite helper at testing and development

for wires 0.08 - 2.5 mm² (28-14 AWG)

20A/ 42V

various color versions available
Do not miss these articles
Do you like our articles? Do not miss any of them! You do not have to worry about anything, we will arrange delivery to you.
Gain the Wago 215 banana plugs for free!
Competition with the following question has been published here:
What ´s the recommended strip length of a wire to insert into a Wago 215 plug?
The correct answer was: 9-11 mm
We have drawn the following winners:
Pavel Červenka [SK]
Igor Černý [CZ]
Martin Šiška [SK]
Lukáš Kořínek [CZ]
Michal Giemza [CZ]
jaroslav Lukáč [SK]
Stanislav Veselovský [SK]
Josef Malík [CZ]
Roman Horváth [SK]
Petr Složil [CZ]
Congratulations to winners. We´ll inform them by e-mail.
Thanks. Because of a big interest, we increased number of winners from (planned) 5 to 10.