The Weller WXsmart soldering station represents an all-in-one solution for every soldering challenge. It can even be easily expanded into a full-service station with the WXair Rework module. We took a look at what it can do and what unique solutions it offers. (reading for 3 minutes)
Source: WELLER

The Weller WX series has been a top-class soldering and desoldering station for many years. Can this great soldering technology get any better? Obviously, it can. Check it out yourself.

The new Weller WXsmart soldering station takes unique features and capabilities even further to meet the most demanding industrial needs. It offers maximum connectivity, supports Internet of Things (IoT) standards for full traceability even via mobile devices and comes with simple remote control.
Soldering station extended by the WXair module
The WXsmart soldering station can be expanded with the new WXair module, which creates a complete "standard" as well as a hot air soldering and desoldering workstation. As a result, it has a power of 300 W and 2 soldering channels - 1 air and 1 vacuum channel. 
Since the Weller WXsmart is compatible with all WX series tools, you can connect a total of 16 different tools to it. 
Practical tip: 
The WXsmart soldering station is compatible with all tools from the WX series. For example, WXMT, WXP65 and the like.
It is also compatible with: 
The smart functions of Weller WXsmart are definitely noteworthy 
The WXsmart soldering station has intelligent tool detection and up to 10 parameter settings that can be customized. The new smart tips (cartridge) offer several new functions thanks to the integrated chip in each soldering tip.
The following practical functions and features got our attention when testing the WXsmart soldering station: 
extremely fast heating time (only 3 seconds), excellent heat transfer and short regeneration time,
automatic identification of the soldering tip,
tip locking function for complete process control,
unique individual serial number for full traceability.
We also appreciate the fact that the soldering station includes all the standard interfaces - WiFi, LAN, USB and 2 x RS 232.
"All-in-one" soldering station 
The "all-in-one" solution acts as the brain of the workstation, combining all soldering operations into one station. You don't need another station - all soldering, desoldering and hot air applications, from the smallest to the largest components, can be covered by the WXsmart platform.
The platform fully supports Smart Soldering 4.0 with smart tips and tools that save costs, time, and space.
WXsmart is a practically centralized control unit that controls several devices simultaneously: 
hot air/vacuum WXair module,
fume extraction,
preheating plate,
soldering bath,
cooperates with the optional WCU calibration unit (auto-calibration).
Highly intuitive interface with a large full-colour display  
Weller WXsmart is a completely new, highly intuitive user interface.
The new integrated colour display allows you to monitor power and temperature graphs in real-time. This makes using the station extremely pleasant.
Full ESD protection
Weller is the only manufacturer that offers a fully ESD-safe manual soldering platform. The large, patented colour glass 4.3-inch TFT touch screen is the only screen on the manual soldering market that is truly ESD-safe and heat resistant, so you don't have to worry about it getting damaged by hot soldering tools. Moreover, it has been optimized for use with ESD protective gloves, which we greatly appreciate.
Practical control via WXsmart application
We are pleased that the Weller WXsmart soldering station can be remotely controlled using the Weller Smart Control App. With total process control, WXsmart offers maximum connectivity and traceability - either on the work desktop or remotely via a tablet or smartphone application. 
After detailed testing of individual functions, we especially appreciate the following features and benefits: 
the highest security standards (TLS encryption),
two-factor authentication (2FA),
mobile monitoring of performance and temperature graphs in real-time via tablet or mobile phone,
temperature setting, turning the tool on/off and the possibility of control via an intuitive instrument panel on a computer monitor or on control screens,
smart soldering tips.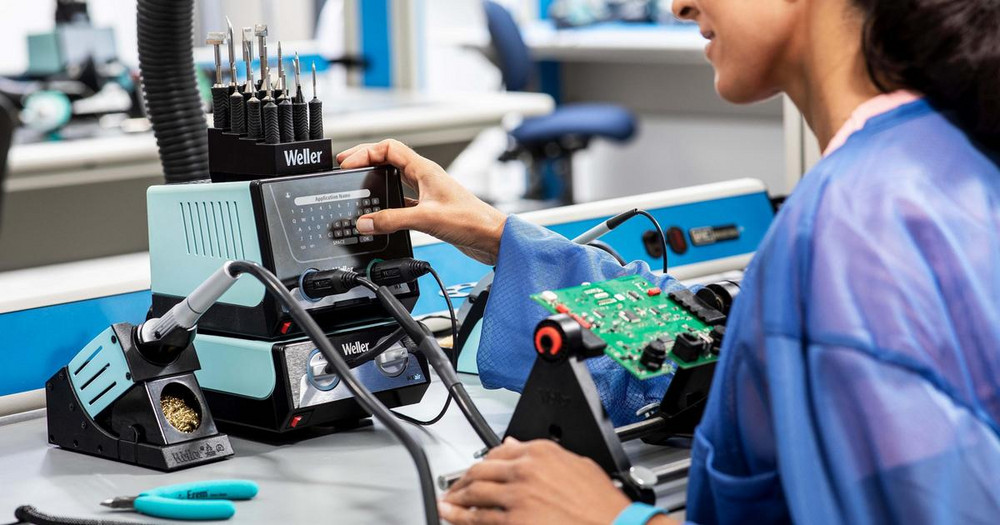 Source: WELLER

Interesting fact: The soldering station is equipped with a remote locking function for smart soldering tools, so only an authorized person can make any changes to the settings.

Automatic calibration
Thanks to the connection with the WCU - Weller Calibration Unit - Weller High Precision Temperature Measurement Device, we performed automatic calibration very quickly and easily. Every user will certainly appreciate this option. 
Our final evaluation of the Weller WXsmart soldering station
The Weller WXsmart soldering station proved to be a suitable solution even for the most demanding users. We highlight its high quality, intuitive modern control, many smart functions and, above all, a multifunctional solution. All this together help to save costs, time, and space, but also facilitate work and increase safety at work.
We have included the WXsmart soldering station from Weller as well as other accessories in our assortment and you can find them in the soldering technology section. 
---
Download the attachment in PDF format, scan the QR codes and see how easy it is to work with the new Weller soldering station.
Are you interested in more information about Weller products or technical advice when choosing a product? Or do you have another question or request? Please fill out the following form, we will be happy to help you.
Videos
Weller WX Smart

The recording is a Slovak language livestream of the "Morning 15-minute series with SOS electronic". This series is an introduction of the newest products in our portfolio.

Are you interested in more videos? Follow us on YouTube channel
Do not miss these articles
Do you like our articles? Do not miss any of them! You do not have to worry about anything, we will arrange delivery to you.