Intelligent soldering stations WX series meet all what we might expect from an ultimate instrument.
This is an archive article published 12/07/2012. Some information may no longer be up to date and in line with the current state. Please contact us in case of interest.
The base of universal soldering and desoldering stations are WX1 a WX2 stations, with the possibility to connect 1 or 2 tools. WX1 enables to connect 1 tool with a maximum power of 120W and the WX2 station enables to connect two tools with a maximum power of 120W or one 200 W. An ultimate choice for rework workplaces are new WXD series stations, supporting the WXDP120 desoldering tool. A great advantage of the WX platform is a wide choice of tools and tips suitable for extra fine work with SMT components (WXMP tool, 40W), common work with the most of components (WXP65, WXP120) as well as for soldering of big joints and other components requiring a high heating power (WXP200). An invaluable helper at a work with components are the WXMT-MS (2x40W). SMT tweezers. WX tools are motion-activated through an integrated motion sensor. It means, that they consume energy only when they are actually in use.
Control interface of WX stations is done via a touch panel display. WX2 enables communication with other devices like control of WFE fume extracting station and a WHP preheating device.
The digital control electronics together with superior temperature sensor and heat-transfer technology guarantee precise temperature control at the soldering tip. High-speed measured-value acquisition gives maximum temperature precision and optimal temperature response under load. As we know, stable soldering tip temperature at the load is the essential condition to reach high quality solder joints independently on the joint size or type. This also ensures careful soldering of temperature sensitive components – now even more important at lead-free soldering. Intuitive multi-lingual menu and user friendly interface make WX series an ultimate choice for professional usage at any production or repairing workplace.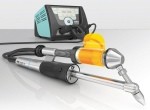 WX2 Specification:
Power supply: 230VAC, 50Hz, 240W
Temperature range 0 to 550°C
Accuracy: ± 9°C
Temperature stability: ± 2°C
Enclosure material: aluminium and ESD plastics
Display: backlighted capacitive touch LCD display with six touch zones and a touch wheel
Connectivity: 3,5mm Jack connector for potentials equalization, USB port, WX communication port
Dimensions: L x B x H (mm) 170 x 151 x 130
Weight: 3,2kg
New repair stations are available in several versions:
WX 2020 - WX2 station, 2x 120W soldering tool WXP 120, 2x WDH 10 stand
WX 2021 - WX2 station, 1x 80W micro tool WXMP + WDH 50 stand, 1x 80W WXMT desoldering tweezers + WDH 60 stand
WX 1010 - WX1 station, 1x 120W WXP 120 soldering tool, 1x stojan WDH 10
WX 1011 - WX1 station, 1x micro tool WXMP-MS, 1x WDH 50 stand
WX 1012 - WX1 station, 1x 65W WXP 65 soldering tool,1x WDH 10 stand
WXD 2010 - WXD2 station, 1x 125W WXDP 120 desoldering tool,1x WDH70 stand
WXD 2020 - WXD2 station, 1x 125W WXDP 120 desoldering tool, 1x 125W WXP 120 soldering tool, 2x stand
In case of interest, please contact us at
info@soselectronic.com
.
Videos
Advantages/ Features:
2 independent 120W tools or 1x200W tool can be used

intelligent power-save mode

antistatic ESD safe design / connector for potentials equalization

robust capacitive touch display / intuitive control and multi-lingual menu

antistatic-coated real glass display

no calibration needed

automatic tool detection

WX port / possibility to control more accessory devices

USB port for firmware updates, configuration and monitoring
Do not miss these articles
Do you like our articles? Do not miss any of them! You do not have to worry about anything, we will arrange delivery to you.