The Wiznet W6100-EVB-Pico development platform is a combination of the very popular MCU RP2040, a fully integrated HW TCP/IP W6100 controller and Ethernet. It is a very convenient and ready-to-use solution for every IoT device. (reading for 2 minutes)
IoT module by Wiznet based on RP2040 and W6100 with Ethernet interface 
Internet connectivity specialist Wiznet has launched a compact development platform with Ethernet connectivity, W6100-EVB-Pico, based on the popular ARM MCU RP2040.
It is a very attractive ready2use solution suitable for various Internet of Things projects, mobile and wearable devices with requirements for low energy consumption, minimal costs, and a short period needed for start of production (SOP).  
Pavel Kováč, product specialist from SOS electronic, says: "The IoT module Wiznet W6100-EVB-Pico is a combination of the very popular MCU RP2040 and a fully integrated HW TCP/IP controller of the latest generation. It basically works the same way as the Raspberry Pi Pico development board, but with additional Ethernet using the Wiznet W6100 control chip. It is very cost-effective and mainly, a ready-made solution for embedded IoT devices. 
Our article, W6100 is ready for IPv6, provides more detailed information about the Wiznet W6100 HW chip with an Internet driver, which solves the issue of the lack of IP addresses in IPv4.

Key features of the Wiznet W6100-EVB-Pico development board: 
MCU RP2040 with 2 MB Flash
dual-core Cortex M0+ with a frequency of up to 133 MHz
264 kB of internal SRAM
external Quad-SPI Flash with eXecute In Place (XIP)
high-performance full-crossbar bus fabric
30 multifunctional IO for general use (4 can be used for ADC)
1,8 – 3,3 V IO voltage (NOTE: Pico IO voltage is fixed at 3,3 V.)
12-bit 500 ksps analog-to-digital converter (ADC) 
Various digital peripherals
2 × UART, 2 × I2C, 2 × SPI, 16 × PWM channels
1 × timer with 4 WDT, 1 × counter in real time
2 × programmable IO (PIO) blocks, altogether 8 state machines
flexible, user-programmable high-speed IO
it can emulate interfaces like SD card and VGA  
It contains Wiznet W6100 chip
It supports HW Internet protocols: TCP, UDP, IPv6, IPv4, ICMPv6, ICMPv4, IGMP, MLDv1, ARP, PPPoE
It supports 8 independent sockets simultaneously with 32 kB memory
internal 16 kB memory for TX/RX buffer memories
SPI interface
micro-USB B port for power and data (and for Flash reprogramming)
40 pin 21 x 51 'DIP' style 1 mm thick PCB with 0,1" pins with through-hole pins also with SMD pads
3-pin port ARM Serial Wire Debug (SWD)
built-in 10/100 ethernet PHY
It supports automatic handshaking
full/half duplex
built-in RJ45 (RB1-125BAG1A)
built-in LDO (LM8805SF5-33V) 
Wiznet W6100-EVB-Pico's hardware specification: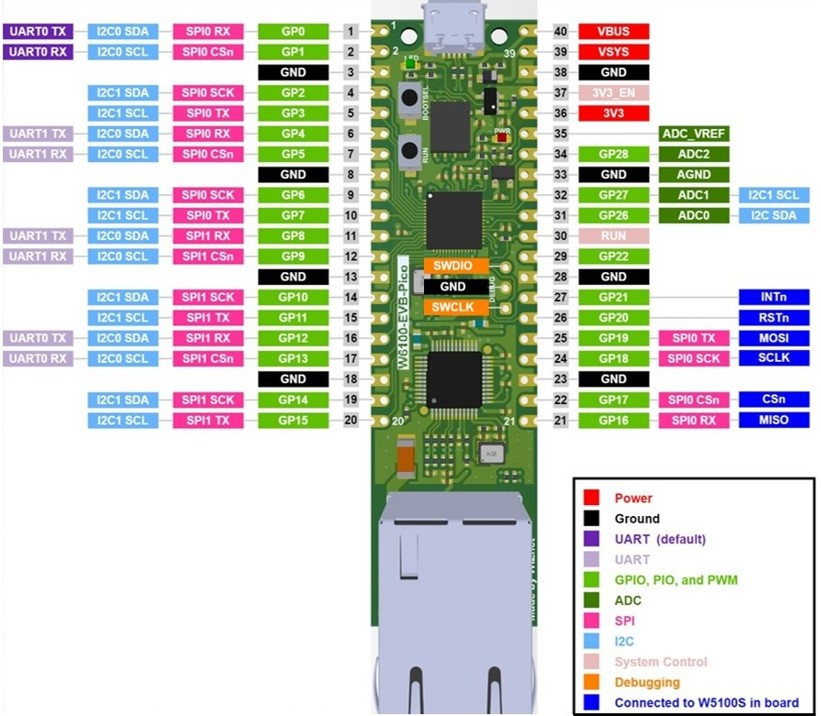 Source: Wiznet




We have included the development board for W6100 with Raspberry Pi RP2040, W6100-EVB-Pico, in our stock offer and it is immediately available for all your projects. 
---
Are you interested in more information about Wiznet products or technical advice on choosing a suitable solution? Or do you have another question or request? Please fill out the following form, we will be happy to help you.
Do not miss these articles
Do you like our articles? Do not miss any of them! You do not have to worry about anything, we will arrange delivery to you.