We not only sell components, we also understand them. With us, it is not only about components delivery, it is about the complex of related services and benefits.
So why us? What will you get extra?
Quality and components origin guarantee
The vast majority of products in our range are taken directly from certified and reputable manufacturers. We do not purchase via the "gray" channels in any case.
Relationships above standards with producers
Our relationship with manufacturers of components is above standard. Do you need technical support directly at your place? That is absolutely no problem for us! We will visit you directly with a representative of the manufacturer, so you're getting firsthand information.
Technical support
Technical webinars, workshops and hands-on-labs Product articles in form of product reviews Own FAE as well as intermediated support directly from manufacturers of components
We save your time and costs
With our know-how and suggestions, we are helping you with the design of your products, so you can often save several months of development and the costs involved.
Power of the international business group
In 2013 we became a part of CONRAD business group. We are a part of the family with almost 100-year tradition and financial power of few milliards of euros.
Quality of package and equipment delivery
You will not find anybody "transferring equipment" in our warehouse. We employ qualified people with appropriate technical skills in our warehouse as well. That is also one of the reasons why we achieve one of the lowest error rates in our field - less than 0.02%.
We are open and critical to our mistakes
We know that life brings situations where not everything works the way it should. We are not trying to hide our own mistakes. You can resolve your complaints directly on the web, which speeds up the processing of your claim.
We communicate in your language
We communicate with you in 6 languages – Slovak, Czech, Hungarian, German, Polish and of course, English.
We do not have the word "impossible" in our vocabulary
We offer individual and humane approach. We are not looking for excuses; we are always trying to find solution for your requests in order to satisfy both parties.

We look at you as at an electrical engineering company that wants to sell their products at a profit. Therefore, we focus not only on the efficient delivery of components, but ...
We help save costs when developing your products
We optimize your costs for the purchase of electronic components
We cut your costs for production with just-in-time delivery of components
We help you with the promotion of your products and thus increase your sales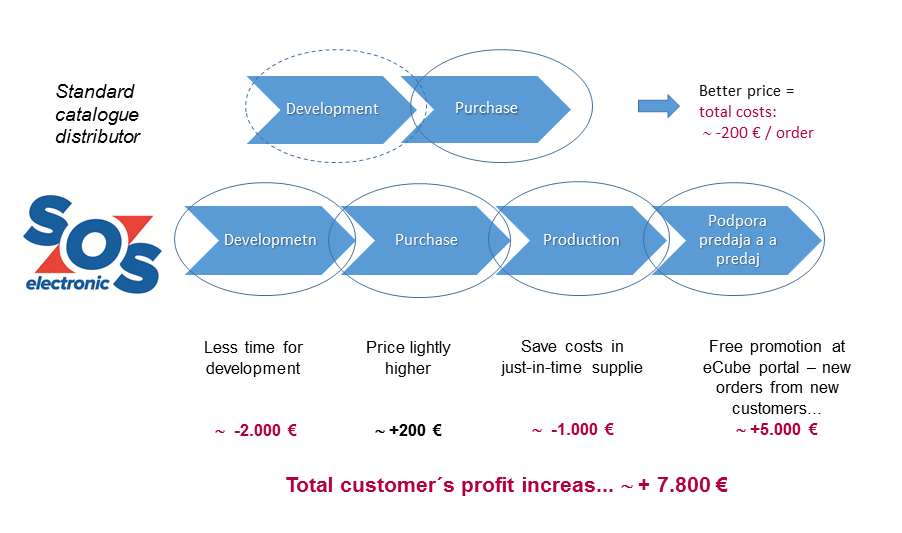 Equipment is distributed via two warehouses and logistics centers:
Standby warehouse for immediate delivery on a daily basis Kosice, Slovakia – 1200 m2, approx. 10 thousand of warehouse items worth 3,2 mil. €
Pan-European central warehouse within the Conrad group structures Wernberg, Germany – 100 000m2, approx. 700 thousand of warehouse items