Intel Elkhart Lake processors offer low power consumption and excellent computing performance. We can now finally introduce you to a decent successor to the Intel Bay Trail and Apollo Lake Atom, Celeron, and Pentium processors.
Miroslav Piskor, the product specialist from SOS electronic, prepared a comparison of single-board computers (SBC - single-board computer) based on Intel Elkhart Lake processors produced by the two world brands AAEON and LexSystem.
Ethernet, USB, serial communication interfaces and other interfaces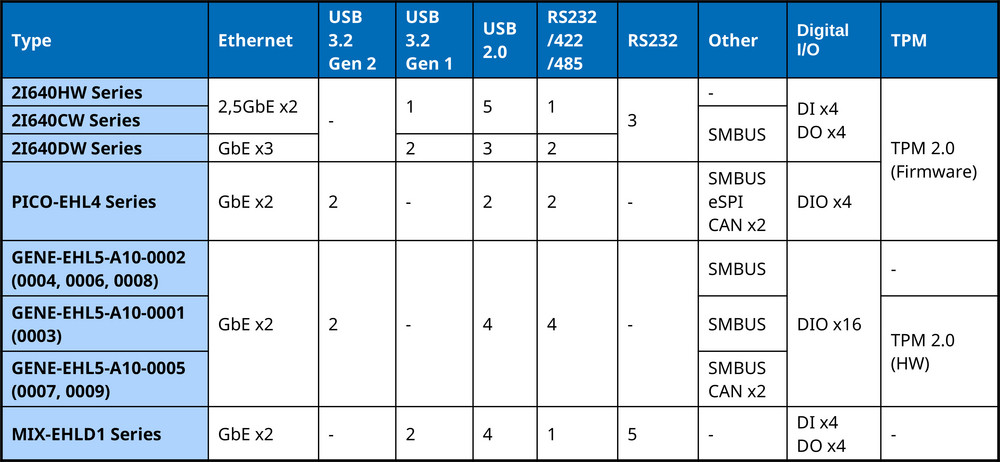 The LexSystem 2I640HW and 2I640CW single-board PCs make full use of the network potential of the processor and provide two 2.5 GbE ports.
USB transfer modes
USB 3.0 standard - transfer speed is 5Gbps
When the USB 3.1 standard was published, USB 3.0 -> USB 3.1 Gen 1 and the faster mod (10Gbs) was named as USB 3.1 Gen 2.
When the USB 3.2 standard was published, USB 3.1 Gen 1 -> USB 3.2 Gen 1, USB 3.1 Gen 2 -> USB 3.2 Gen2 and the faster mod (20Gbs) was named as USB 3.2 Gen 2x2.
RAM, storage, and extensions

Single board computers offer either 4GB DDR4x 3200 on board RAM or a SODIMM slot for DDR4 3200 RAM up to 32GB.
All SBCs except the PICO-EHL4 series allow the use of M.2 SSDs with a PCIe 3.0 [x2] interface, which is faster than SATA 3 SSDs.
The PICO-EHL4 series allows the use of 4G/LTE modules in full-size PCIe with an integrated SIM slot. (SBCs do not have a SIM card slot). The 2I640CW, DW and HW series uses a smaller M.2 3042 slot compatible with 4G/LTE modules and has a nanoSIM slot on the board. GENE-EHL5 offers a nanoSIM board and M.2 3052 slot compatible with 5G modules. The MIX-EHLD1 series offers a SIM slot and an M.2 3042/3052 slot compatible with 4G and 5G modules.
Processor
Selected processors support "in band ECC". This means that the memory controller can store checksums in a dedicated area of normal non-ECC memory.
2C/2T performance across generations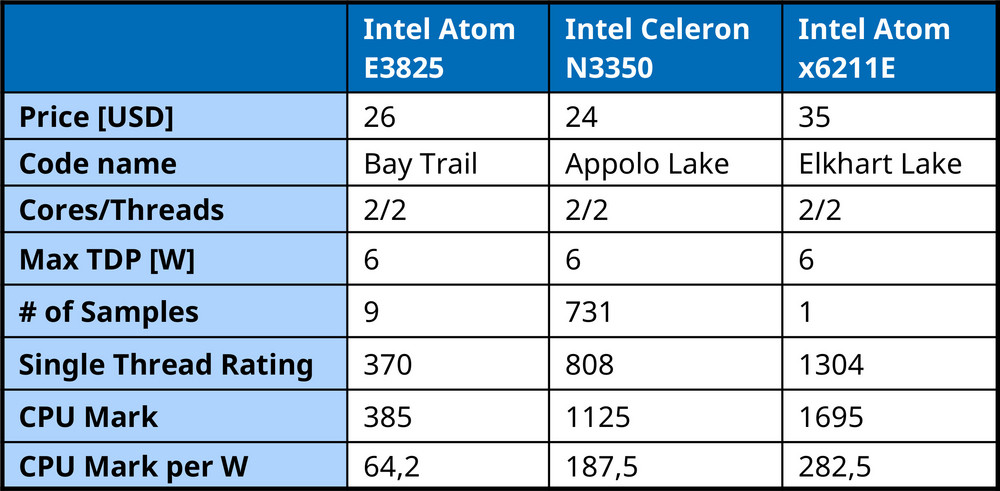 4C/4T performance across generations

The results of the "CPU Mark" test are better than those of Celeron processors with TDP=15W and comparable to the results of Core i3, Core i5 and Core i7 processors with TDP=15W. See the comparison.
Displays and audio

SBCs offer LVDS or eDP interfaces for internal TFT panels. Today, many industrial TFT panels still use the LVDS interface, but eDP is a technically better interface and is slowly gaining ground at the expense of LVDS. As for external interfaces, SBCs offer various combinations of HDMI, DP, and VGA interfaces.
Environment and mechanical design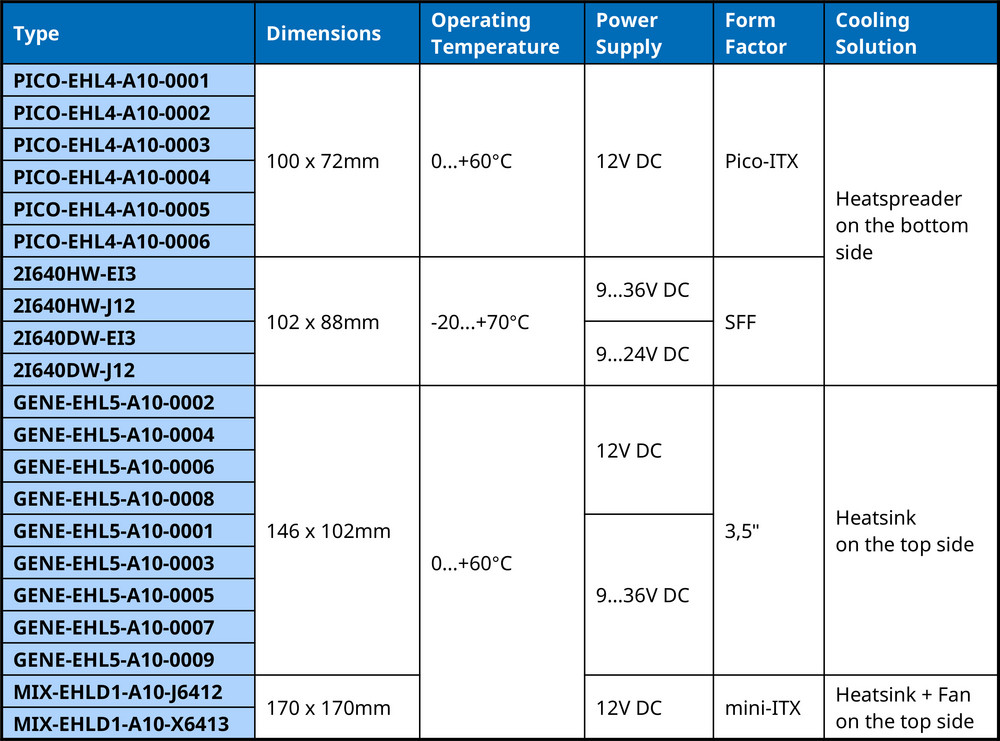 LexSystem traditionally offers SBC for the temperature range -20… 70˚C. AAEON offers standard SBC for the range 0… 60˚C. Selected types of Elkhart Lake processors are specified for the temperature range -40… 85˚C, so we can expect that SBCs for this temperature range will be added in the future.
PICO-EHL4 and 2I640 SBCs have processor soldered on the bottom side. SBCs are shipped with heatspreader that transfers heat to the chassis or heatsink. GENE-EHL5 and MIX-EHLD1 SBCs have processor soldered on the top side. They are supplied with a passive heatsink or heatsink with a fan for the MIX-EHLD1 series. 
LexSystem 2I640HW uses low-profile wire-to-board connectors instead of standard ones for external interfaces. This allows, for example, to place the SBC in a waterproof box and wire the necessary interfaces to rugged waterproof M12 connectors.
Due to their architecture and functionality, single-board computers are suitable for a wide range of automation tasks in various industries. We believe our comparison got you not only an overview of the SBC offer but also helped you find a suitable solution for your application. 
PDF Documents

Are you interested in more information on AAEON and LexSystem single-board computers or in technical advice on choosing a suitable product? Or do you have another question or request? Please fill in the following form, we will be happy to help you.
Do not miss these articles
Do you like our articles? Do not miss any of them! You do not have to worry about anything, we will arrange delivery to you.