USB solutions specialist Future Technology Devices International Limited (FTDI) has added two new cables to its USB to digital level serial interface portfolio. The new C232HM-DDHSL-0 and C232HM-EDHSL-0 USB 2.0 Hi-Speed to Digital Level cables - offer a fast, simple way to connect devices with 3.3 V logic level interfaces to USB.
This is an archive article published 08/17/2011. Some information may no longer be up to date and in line with the current state. Please contact us in case of interest.
Both cable interfaces are USB2.0 Hi Speed compatible (480Mb/s), based on the widely used FT232H USB to UART/FIFO interface chip from FTDI. Cables are 0.5m long and contain a compact PCB with all necessary components encapsulated into the USB connector. They offer the same convenient way to connect devices to USB like if you used the FT232H chip in the device, but moreover without a need to add any components into the existing device. For new designs, they offer a possibility to spare a space in the device, as a complete interface is in the USB connector. With these cables you can easily connect to USB port devices with industry standard protocols like I2C, SPI or JTAG or also MCU, PLD, FPGA based designs.
FT232H used in cables feature the Multi-Protocol Synchronous Serial Engine (MPSSE) – a hardware command processor, which makes communication with serial protocols ( JTAG, SPI, I2C) more efficient, thus sparing USB bandwidth. The MPSSE also enables design engineers to implement their own proprietary synchronous serial bus protocols. The cables support data transfer rates of up to 30 Mb/s in MPSSE mode.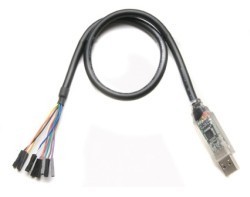 Cables are available in 2 versions – C232HM-DDHSL-0 with a 3.3V/200mA and C232HM-EDHSL-0 with a 5V/200mA output power. Both cables support 3.3V logic levels (FT232H has its own on-chip +3.3V regulator), the difference is only in the output voltage on the VCC pin of the cable. That's why you can supply your devices from USB port with 5V/200mA or 3.3V/200mA, where 5V version provide power supply directly from USB port (through FET) and the 3.3V version uses an on-board regulator. Cables are terminated by ten individual wires which are single pole connectors that can be interfaced to a 0.1" pitch male header.
For download is available the C232HM datasheet. Cables can be easily configured into various interface options using freely available application software from FTDI website.

FTDI also provides the required USB drivers as well as a newly launched set of I2C and SPI based DLLs for Windows and Linux to aid the application development using the MPSSE. User guides AN_177 and AN_178 provide detailed informations about usage of cables for SPI and I2C protocols.
Advantages /Features:
complete USB interface in a cable

USB 2.0 Hi-speed (480 Mb/S) and Full speed compatible

rapid and easy connection of JTAG, SPI, I2C or MCU/PLD/FPGA based devices to USB

free Windows and Linux drivers and DLLs

synchronous Serial (MPSSE) data rates of up to 30Mbps at JTAG, SPI and I2C

1 kByte receive and transmit buffers for high data throughput

transmit and receive LED drive signals

support for USB suspend and resume

low operating and USB suspend current

low USB bandwidth consumption

temperature range -40 to +85°C
Do not miss these articles
Do you like our articles? Do not miss any of them! You do not have to worry about anything, we will arrange delivery to you.