Neutrik's data connector range copes with the increasing demand of digital connections in the professional audio, broadcast and entertainment industry. Networking and computerized controls have to be equipped with reliable and rugged interconnection systems, since conventional data connectors can not meet the demanding requirements of live / rental or broadcast applications.
This is an archive article published 08/17/2010. Some information may no longer be up to date and in line with the current state. Please contact us in case of interest.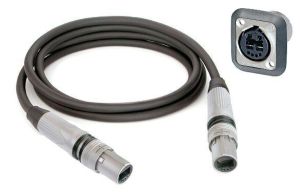 Neutrik® early understood this trend and realized a range of ruggedized connection systems based on standard digital interconnection products like Fiber Optic and Network Interconnections as well as Digital Interfaces like USB, Firewire and now as well HDMI.
Fiber Optic
The opticalCON system is based on LC-Duplex connectors but eliminates its weakness and guarantees a safe, dust protected and rugged connection. Being compatible to conventional LC connectors the opticalCON DUO offers the choice of using cost effective LC cables or the rugged opticalCON mobile cable assembly. This final user flexibility choosing a cost effective LC for system integration or a rugged cable for mobile applications is appreciated by OEMs.
The opticalCON DUO is used for various audio, lighting and video applications. Typically examples are audio and DMX network (ring switch) applications, video projection based on fiber optic DVI,HDMI, or KVM signal converters or mobile video LED panels as well as various broadcast applications.
The new opticalCON QUAD is based on the proven opticalCON DUO connection system but with 4 channels it is optimized for POINT-TO-POINT interconnections. The system copes with the increasing need for fiber optic channels, offers an armoured X-TREME cable for highest reliability and helps to minimize different connection standards with an innovative TRIPLE-SPLIT 12-channel solution.
For more information, please visit manufacturer´s
website.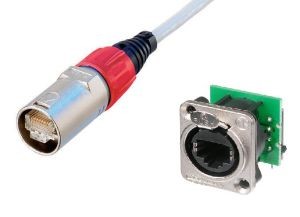 Network Interconnections
The etherCON Series is a ruggadized and lockable RJ45 connector system, optimized for proaudio, video and lightning network applications.
EtherCON provides solutions for data transfer in harsh and demanding applications. These connectors are especially applicable for Ethernet networking in audio, commercial, entertainment, live stage production, DMX lighting, industrial and outdoor internet access environments.
The etherCON series offers male cable carriers, assembled female receptacles, feedthrough jacks, cable coupler and shielded versions with or without illumination possibilities by LEDs. The male cable end offers a rugged diecast metal shell as a carrier for pre-assembled RJ45 plugs, which does not require the re-termination of the cable assembly. Female chassis receptacles are based on the current Neutrik "A & B" series as well the "D" series of XLR receptacles with secure latching system - a feature not found on other RJ45 receptacles. Terminations include horizontal and vertical PCB mount or IDC. Colour coding is available for both the cable carriers and the receptacles for ease of identification.
Ingress protection of IP54 is achived on the CAT 5 version by assembling the waterproof kit SE8FD while CAT 6 versions are IP65 rated as standard. Neutrik etherCON receptacles comply with CAT 6, CAT 5e (IDC versions) or Class D (PCB versions), shielded or unshielded according to TIA / EIA 568B and ISO / EC 11801 standard. For more information, please visit manufacturer´s
website.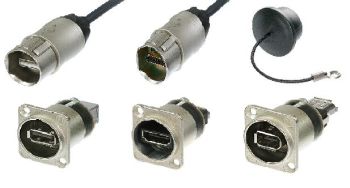 Digital Interfaces
Digital multimedia interfaces like USB, Firewire and HDMI.
USB - Due to the rising digitisation the interface problems between audio/video networks, IT equipment, MP3 camcorders, etc. increase. Neutrik's reversible USB gender changer, mounted in the standardized D-shape housing, and the rugged patch cables solve this problem.
HDMI - Neutrik's HDMI solution for the transmission of any digital TV and PC video format including high-definition video (HDTV) can be integrated in networks very easy. The series includes a chassis connector in the standard D-size housing and rugged HDMI patch cables.
FIREWIRE - Neutrik's Firewire feedthrough type 1394a, mounted in the standardized D-shape housing, solves the interface problems between audio/video networks, IT equipment (e.g. Mac) and mLAN connections. For more information, please visit manufacturer´s
website.
Please find some of the basic data connectors in our range of products below.
Do not miss these articles
Do you like our articles? Do not miss any of them! You do not have to worry about anything, we will arrange delivery to you.