A major leap in DC/DC construction technology opens the door to affordable and more effective TracoPower products developed for high-volume applications.
This is an archive article published 11/11/2020. Some information may no longer be up to date and in line with the current state. Please contact us in case of interest.
Latest technology achievements in machine wound coils, SMD technology and robotics enabled TRACO to develop and manufacture 1-3W DC/DC converters with better heat resistance, higher efficiency and lower price.
The TSR1E, TEA1, TEA1E, TEA1HI, TBA1, TBA1E, TBA1HI, TBA2, TEC2, TEC2WI, TEC3 and TEC3WI series are made using these technology achievements and can operate in up to +85°C without derating.
All these new families are especially suited for high volume applications because of the lower price.
Main features:
Highly cost-efficient design
Standard I/O isolation of 1500VDC with optional 4000VDC 
-40°C to +86°C operating temperature range without derating
Available input ranges ±10%, 2:1 and 4:1 
Industry-standard SIP-4, SIP-7 and SIP-8 packages 
3-year warranty
Application:
Space and cost critical applications 
High volume projects where simple and reliable products are needed
Overview of 1-3W DC/DC added recently: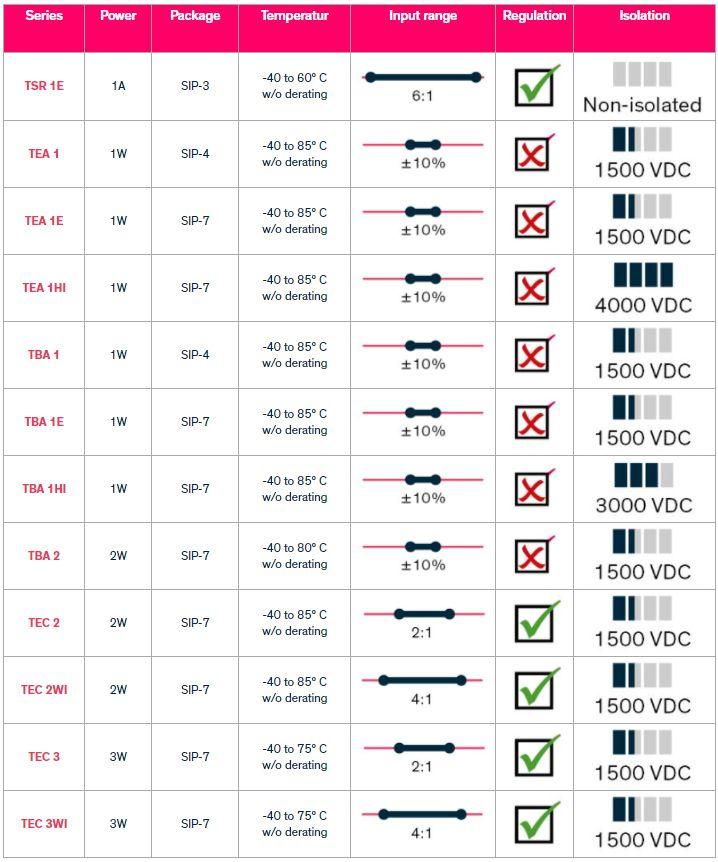 We have included the new generations of TracoPower DC/DC converters in our product range.
For more information on TracoPower products, do not hesitate to contact us at sales@soselectronic.com

Videos
TRACO Power offers a low-cost solution of low power DC-DC converters from the isolated TEA, TBA, TEC series and the non-isolated TSR 1E series. The new generation of products developed for price-sensitive and high-volume applications.