2,3,4 ... 7 inches will display more
Company 4D Systems launches on the market a powerful graphic processor Diablo 16, suitable even for larger displays and powerful embedded applications.
This is an archive article published 16.01.2014. Some information may no longer be up to date and in line with the current state. Please contact us in case of interest.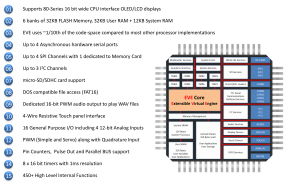 After a success of
Goldelox and Picaso
processors, company 4D Systems decided to design a processor which would be powerful enough for demanding graphic applications and also usable on larger displays. Processors Goldelox and mainly Picaso are still perspective everywhere, where they´re sufficient by their power and memory , but for example they´re not suitable for 7" displays. That´s why the 16 bit processor Diablo16 comes on the market. What does it bring? It could be said, that increase of computing power and functionality in almost all ways. More possibilities, substantially more Flash and RAM,…
A good news is, that also the Diablo 16 has a core designed for execution of programs in the 4DGL language, similarly like processors Picaso or Goldelox. The 4DGL language (4D graphic language) is a powerful, high-level language, which however maintains user friendliness and it´s easy to learn. A big advantage is, that a powerful software package for development of graphic applications -
Workshop4 IDE
is usable also for the Diablo 16 and it´s completely for free.
Together with a new processors, there´s also available a ready-made graphic module
uLCD70DT
(7", 800x480), ready for immediate usage.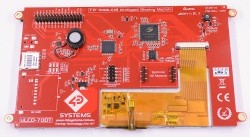 Further information will provide you the attached pictures
Diablo16
and
uLCD70
, as well as documents
Diablo16 datasheet
,
Diablo16 internal functions
and
uLCD70DT datasheet
.
In case of interest in any
4D Systems products
, please contact us at
info@soselectronic.com
.
Advantages/ Features:
powerful 16 bit graphic processor
ideal as a standalone graphic processor or as a graphic coprocessor
6 banks with 32750 Byte Flash
32kB user RAM
16 general purpose IO ports, including 4 analogue inputs
PWM, I2C, SPI,...
direct support of SDHC/SD cards, FAT16 files
free development software Workshop4 IDE
Do not miss these articles