Armadillo 43T integrates a 4.3" TFT display, resistive touch panel and a single board computer with Linux OS into one compact unit.
This is an archive article published 07/10/2015. Some information may no longer be up to date and in line with the current state. Please contact us in case of interest.
Armadillo 43T is suitable for everyone, who needs a complete microcomputer with a display – "all in one solution".
Armadillo 43T
is driven by operating system Armadillian designed in a way to optimally use possibilities of the Armadillo processor while maintaining "Raspbian compatible" – enabling to run majority of applications created for Raspberry Pi™. Armadillian contains "ArmadilloConfig" tool enabling setting of basic properties of a touch panel without necessity to connect external keyboard or mouse.
USB Host interface enables to connect wide range of devices like for example Ethernet or WiFi USB module (dongle). Armadillo 43T uses the same processor like Raspberry Pi™, while here - http://elinux.org/RPi_VerifiedPeripherals you can find compatible devices.

Armadillo 43T provides 13 GPIO (binary inputs/ outputs), from which 2 can be used as I2C, 5 as SPI and 2 as UART. A user can also use 2 PWM outputs, one of them shared with mono audio output connected to mini speaker. GPIO are 3.3V TTL compatible. In case, they´re configured as 5V tolerant inputs.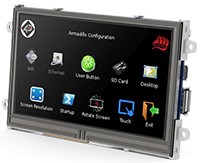 Armadillo 43T can be powered through DC connector, micro USB connector or through power supply pins from an external 5V DC/1A power source (typical consumption is 400 mA).
Armadillo 43T can be found in our standard stock offer. Detailed information will provide you the Armadillo 43T datasheet.
In case of interest in any
4D Systems product
, please contact us at
sales@soselectronic.com
.
Do not miss these articles
Do you like our articles? Do not miss any of them! You do not have to worry about anything, we will arrange delivery to you.
Gain the Armadillo with a 50% discount!
Competition with the following question has been published here:
What´s the name of the OS used in the Armadillo 43T module?
The correct answer was: Armadillian
We have drawn the following winners:
DAVIDE COGLIATI [IT]
Congratulations to winners. We´ll inform them by e-mail.