Apacer SLC-liteX technology combines Xioxia industrial 3D NAND TLC Flash chips and firmware that programs only one of the three bits. The results are outstanding. The SLC-liteX CH110 8GB memory card is our favourite. Try it out and let us know.
SLC-liteX Technology
SLC Flash-based memory cards are still considered the most reliable storage for industrial embedded devices. However, the technology is rapidly evolving and currently provides a good alternative at a competitive price.
Apacer developed SLC-lite technology which uses 2D MLC Flash that can store 2 bits/cell. When programming only one of the two bits, the least significant bit (LSB), threshold voltage distribution behaves similarly to the SLC Flash memory cell. The program/erase cycle (P/E) count then greatly increases, reaching 20 000. By comparison, the standard 2D MLC Flash allows 3 000 P/E cycles.
Apacer used a similar concept for 3D TLC NAND Flash that can store 3 bits/cell. Programming only one of the three bits (SLC-liteX) allows the number of P/E cycles to be increased to 30,000.
The SLC-liteX series products are either covered by a 5-year warranty or the period ending on the date when the SSD exceeds 30 000 Erase Count, which is indicated by Apacer's SMART software, whichever occurs first.
For an overview of the warranty period for Apacer memory cards, please see the following figure.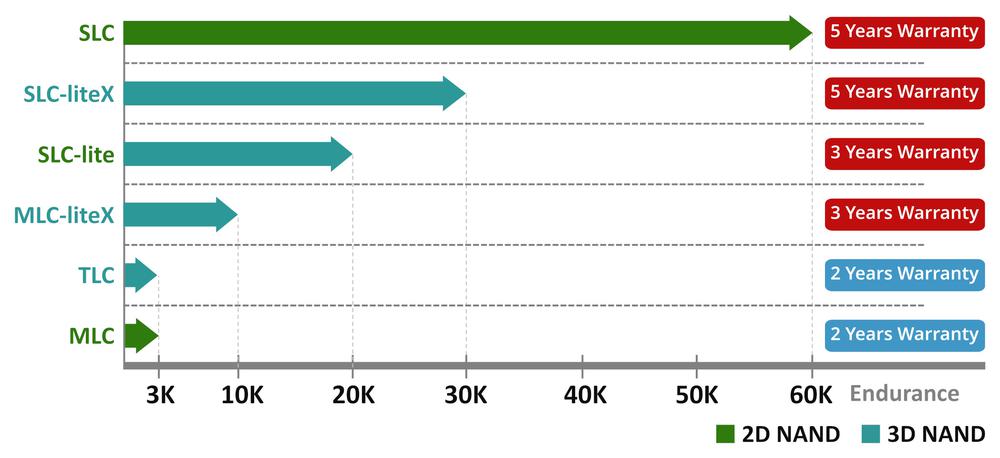 For a full warranty statement, please visit the Apacer website.
SLC, SLC-liteX, SLC-lite, TLC and MLC Memory Cards Comparison
Memory cards have been designed as data storage for digital cameras, video cameras, data loggers, mobile phones, etc. They were not designed as storage devices for embedded systems. Nevertheless, 8GB and 16GB microSD cards are successfully used as SSD alternatives for Raspberry Pi and development kits.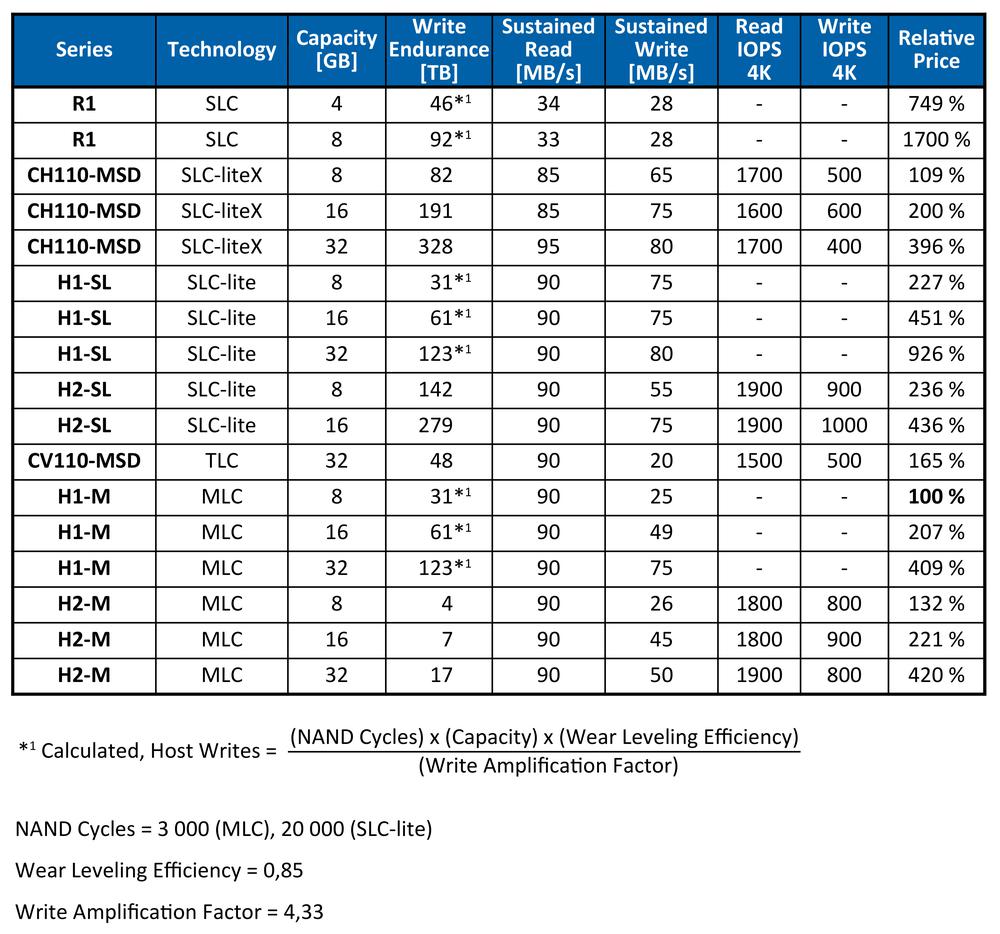 Sequential read/write speed is tested using CrystalDiskMark 5.2.1 with a file size of 1,000 MB. The random read/write speed is tested using an IOMeter with a queue depth of 32. Performance results are measured based on the USB 3.0 card reader.
And the Winner Is
The Best 8GB Memory Card
SLC-lite H2-SL 8GB offers the best overall performance and endurance, but it is 2,36 times more expensive than the reference MLC H1-M 8GB memory card.
The Best Price/Performance 8GB Memory Card
SLC-liteX CH110-MSD 8GB is only 9% more expensive than MLC H1-M 8GB but offers outstanding performance and endurance.
The Best High Capacity Memory Card
TLC CV110-MSD series provides capacities up to 256GB. 32GB card is only 65% more expensive than MLC H1-M 8GB and simultaneously offers better performance.
Please, find the most requested microSD memory cards right in our assortment. The rest can be ordered upon request.
If you need more information about Apacer products, please contact our sales representative SOS electronic for your region or send us an email to apacer@soselectronic.com; we will be happy to help you.

Do not miss these articles
Do you like our articles? Do not miss any of them! You do not have to worry about anything, we will arrange delivery to you.