Miniature computers and network modules from Digi International provide besides top-level features even a long-term availability.
This is an archive article published 09/25/2013. Some information may no longer be up to date and in line with the current state. Please contact us in case of interest.
Company Digi International belongs to the biggest and the most experienced producers of solutions for so called M2M (machine to machine) communication like for components for a network connectivity, embedded microcomputers, communication cards, sensors, servers, routers, modems and many other.
In our portfolio can be found all the most important to start work - development kits:

● CC-W9P-9215-LX and CC-W9P-9215-NET so called Jump Start kit with a module Digi 9P 9215 family with a 32-bit processor NS9215 and a secure technology 802.11 a/b/g. These 150MHz ARM9 modules with an integrated 10/100 Mbit ethernet interface provide a universal network connectivity and a long-term product availability. On stock we keep a version with a Microsoft.NET Micro Framework support and with a Linux OS support.

● CC-WMX51-CE6 SOM microcomputer (System On Module), 10/100 Mbit ethernet, pre-certified WiFi interface 802.11a/b/g/n, hardware-accelerated multimedia, Windows embedded CE 6.0 and Linux support.

● DC-ME-9210-LX ultra compact ARM9 embedded module for network connectivity in a compact RJ45 form factor. Through a programmable FIM module (Flexible Interface Module) it´s possible to choose various interfaces like 1-wire, UART, USB-low speed, SD/SDIO, CAN, etc.
After detailed studying of documentation of these modules you´ll find, that these are the top-level modules with many optional possibilities (ZigBee, GSM, satellite), with a low power consumption and developed for a very low own radiation (EMI).

Wide possibilities of particular modules can´t be summarized into one article, that´s why we recommend you to download documents CC-W9P-9215, DC-ME-9210 and Connectcore_MX51

Detailed overview of these and other products can be found on the Digi International website.
In case of interest in any Digi International product, please contact us at info@soselectronic.com.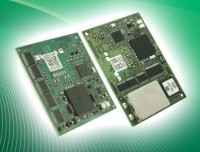 Advantages / Features:
solutions for communication and control from a renowned producer

top-level features

guarantee of a long-term availability

low power consumption, low radiation (EMI)
Do not miss these articles
Do you like our articles? Do not miss any of them! You do not have to worry about anything, we will arrange delivery to you.