Diotec – Your Diode and Rectifier Specialist
RectifierBridge rectifierTVS diode
We started to use the semiconductor diodes in the beginning of the last century. At present, rectifiers account for 27% of the power management market and will be with us for a very long time. More than 4,000 Diotec products can be found in our assortment.
About Diotec
Diotec Semiconductor AG was founded in 1973 in the German city of Heitersheim. Currently it has production facilities in Slovenia, China and India. From the beginning, the company specializes in the production of diodes and rectifiers. In 2017, Diotec was the 4th largest producer of low and medium-sized rectifiers in Europe.
Typical application of Diotec Products
Flyback is the most often used topology for AC / DC power adapters up to 100W. Diotec produces all types of diodes needed for this application. For example, for the reference design with the TopSwitch-JX family, you can use 9 Diotec components - a bridge rectifier, 2 zener diodes, 3 standard and 2 schottky diodes and a voltage reference.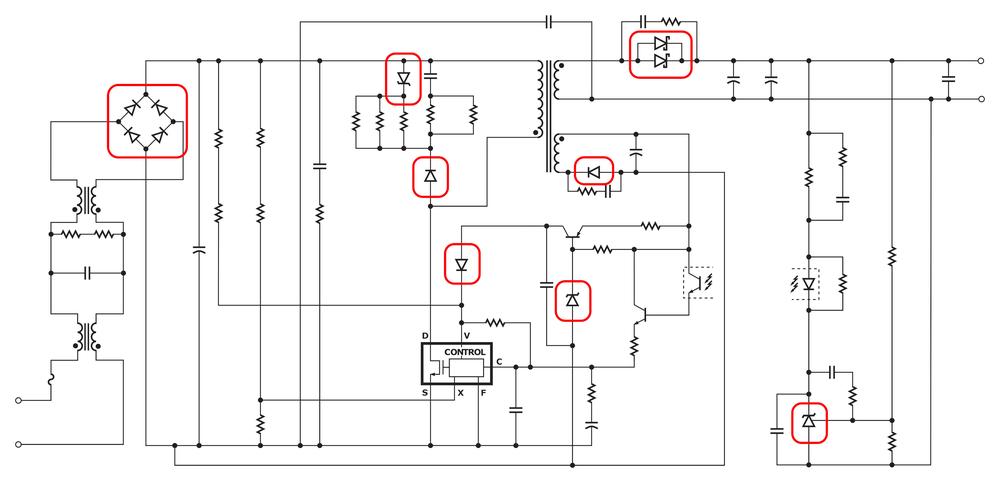 Product Range
The company's product range includes more than 4,000 items and contains standard, schottky and zener diodes, single and three-phase bridge rectifiers, TVS diodes etc. All Diotec products can be found on our
website
.
You can also use selection guides on the manufacturer's page for quick orientation. In addition to standard products, the company also produces diodes and bridge rectifiers with built-in overvoltage protection - Protectifier©.
Pay Attention to TVS Diodes Part Numbers
TVS diodes containing the letter
J
in part number, for example 1.5SMC
J15
CA: number after the letter
J
is the Vwm - the voltage at which the current flowing through diode is typically 5uA.
If the marking does not contain J, for example the 1.5SMC300CA: number 300 is the nominal voltage Vbr - the voltage at which the current flowing through the diode is typically 1mA.
A well-arranged Diotec web where you can find, in addition to product information, product changes notifications (PCNs), certificates and material contents declarations is also worth mentioning.
In case of interest in any products from Diotec, please contact us at diotec@soselectronic.com

Do not miss these articles