This is an archive article published 09/21/2010. Some information may no longer be up to date and in line with the current state. Please contact us in case of interest.
For the first time we do provide a TFT display with 4.3", which is immediately running and it provides from the first minute the full functionality. The display does require a single supply 5V= and an interface RS-232, I²C or SPI only.
All character sets and control /graphic functions for the display and the touch panel are immediately available.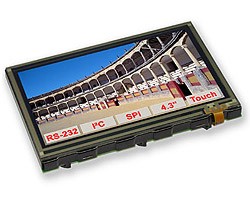 no PC / embedded system necessary
low power with 900mW (0.9W)

no training for a new software and programming tools necessary
full function already 200ms after power-on
drastically reduced time-to-market
tested functions validated hundreds of times
unparalleled flexibility thanks to powerful commands and a variety of interfaces (RS-232, I²C, SPI)
extremely compact construction
and not the least important benefit: a clear price advantage compared to individualized solutions
information flyer as a pdf file (318kB)
There are a lot of different fonts in various sizes built-in already. Additionally all Windows fonts can be included (also cyrillic, hebrew etc.). For vertical usage (portrait mode) all fonts can be rotated by 90° steps
Powerful commands
such as the touch key, bargraph, area, picture, animation, centered strings... are already built-in. You can therefore create the screen layout you want with just a few, easily understood commands. All the commands are based on coordinate specifications and can therefore be applied and moved to the nearest pixel.
There is a built-in self-test facility for demonstration purposes and initial testing: simply set the "Test" pin to low.
Editor / Compiler for Windows
For 1st. steps there is an Editor / Compiler software available. With that the internal FLASH can be used to define some pre-defined screen layouts. Software is available for can be downloaded here immediately: LCD Tools for Windows.

Extremely compact
This innovative display has an extremely space-saving design that simultaneously maximizes the viewing area: there is no PCB overhang and no contact pads for connectors or cables. The viewing area is also optimally sized.
The integrated graphics controller, built-in temperature compensation and integrated negative supply also help reduce the PCB size. Moreover, no additional electronics are required for the optional touch panel: a touch controller is already built in.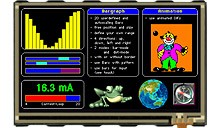 Fast, easy assembly
Like all DIP modules, the EA eDIPTFT43-A is simply inserted in the PCB and soldered in place. No screws, distance sleeves or cables are required, thus saving material costs and simplifying construction. This results in a saving of between 2 and 4 minutes per module during assembly!
For a standard screw mounting (e.g. together with the mounting bezel EA 0FP481-43SW) the display comes with 2 additional mounting clips for easy screw mounting.
Communication via serial interface (RS-232, I²C, SPI)
There is something to match every system: depending on the configuration, the connection can be established via an RS-232 (CMOS level), SPI or I²C bus interface. Also the touch panel communication is done via the same serial interface line.
State-of-the-art display technology
Only top-quality materials are used. As a result, this display is very easy to read and offers a high level of contrast. The design and manufacture of this display series guarantees minimum downtimes even under extreme conditions! Also a long-term availabilty is guranteed.
Touch panel
Optionally, we can also supply this display with an analog touch panel which can be used for all types of input. An integrated touch controller is responsible for representing and labelling the keys as well as for their interpretation. What is more, the shape, size and number of the keys can be modified whenever required at runtime. This permits a clear, well-organized screen layout that helps eliminate operating errors.
Device adaptations for foreign countries and languages are simple to implement even in tiny runs thanks to the variable labelling. This includes cyrillic and arabic.
Technology
With an extended standard temperature range of -20..+70 °C, rapid response times are guaranteed down to -20 °C (max. 3 seconds) Even the essential temperature compensation is already built-in. The displays are designed for +5V single-supply operation.
Getting started
The packages EA STARTeDIPTFT4 does contain everything to get very fast and easy familiar with them:
All informations you can get at our data sheets for EA eDIPTFT43-A, EA eDIP240-7 , EA eDIP320-8 and EA 9777-1USB (german).
Do not miss these articles
Do you like our articles? Do not miss any of them! You do not have to worry about anything, we will arrange delivery to you.