I2C, SPI, RS232, all these are interfaces, through which eDIP series intelligent display are able to communicate.
This is an archive article published 10/09/2013. Some information may no longer be up to date and in line with the current state. Please contact us in case of interest.
Display with a good legibility even in non-optimal light conditions is always an advantage. When we add to it a significant simplification thanks to built-in character sets and graphic functions, we get a display of the eDIP a eDIP TFT series from company Electronic Assembly. Powerful command, touch panel and a high flexibility enable to shorten a development time to a minimum. To an easy usability als contribute very compact dimensions with a maximized screen area. Seven built-in character sets can be displayed up to 4-times scale and by one command they can be rotated in 90° for a vertical display. All character sets can be modified by a "Font tool" utility and similarly it´s also possible to add your own sets. Commands like menu, clipboard, bargraph, draw, ... enable to relatively easily create a graphic output in a combination of text+graphics.
Various versions of displays feature various inner memory sized depending on a display size, sufficient for placing of many pictures and macros. The newest member of the eDIP/eDIPTFT family is the type eDIPTFT5.7 (640x480px). Natural helpers of development are evaluation boards, which we also keep in stock.
The fastest overview about various versions will provide you an attached table, eDIP and eDIPTFT flyer, as well as datasheets at particular types beneath the article. Several types are also available with a touch panel - their ordering code contains an "ATP" suffix.
In case of interest in Electronic Assembly products, please contact us at info@soselectronic.com.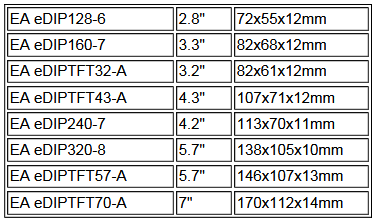 Advantages/ Features:
compact intelligent LCD modules

RS232+I2C+SPI

quality displays with a high contrast

built-in character sets and powerful graphic commands

128x64 to 320x240 px monochrome

3.2", 4.3", 5.7" and 7.0" color TFT

possibility to add custom character sets

simple supply 5V ( 3.3V for some types)

low power consumption, fast startup (1/10 sec)

operating temperature -20 to +70°C

USB and RS485 interfaces via an external IC

compact dimensions
Do not miss these articles
Do you like our articles? Do not miss any of them! You do not have to worry about anything, we will arrange delivery to you.