Connect a signal without distortion - via a Fujitsu relay
Low losses, precise design, low power consumption and moreover a very affordable price are one of several reasons saying for the signal relays from Fujitsu.
This is an archive article published 05.11.2013. Some information may no longer be up to date and in line with the current state. Please contact us in case of interest.
Despite a big advance in a segment of semiconductors, there are still many reasons for usage of electromechanical relays. Galvanic isolation of a driving signal from a switched signal, resistance to surges, minimum crosstalk among switched signals and a minimal or no distortion are main arguments for a classic relay.
In fact a word "classic" even isn´t appropriate, because development of relays is still in progress and it brings results in a form of small dimensions, higher lifetime, low power consumption, high isolation strength etc., that´s why many modern types overcome their predecessors quite significantly.
We´d like to focus your attention for example to series FTR-B3 and FTR-B4. Both are ultra- miniature with a low power consumption and highly reliable bifurcated gold-plated contacts. A big advantage is, that both series also contain latching types with a "zero" power consumption, thus requiring only a short pulse at switching. In respect to miniature dimensions and an affordable price, their usage is beneficial not only for a signal transmission, but also for example for driving/ switching of various processes and similar.
Detailed information will provide you the FTR-B3 and FTR-B4.

As you may notice we´ve significantly increased stock of many Fujitsu relays, what´s also reflected in better prices for you..
In case of interest in any Fujitsu relay, please contact us at info@soselectronic.com.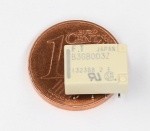 Advantages/ Features:
reliable signal relay with bifurcated contacts
silver-based gold-plated contacts
able to switch even very small signals
miniature dimensions
also available latching versions
low consumption of a coil - 140 mW (standard)/ 100mW (latching)
affordable price
Do not miss these articles