LEDs are becoming very popular, with many possibilities of utilisation. For their real usage in praxis, we need a suitable heatsink, which has a cooling, safety and aesthetic function.
This is an archive article published 09/08/2011. Some information may no longer be up to date and in line with the current state. Please contact us in case of interest.
For this purpose are very suitable two new aluminium profiles in our offer. They are suitable for most of power LEDs, as well as LED strips.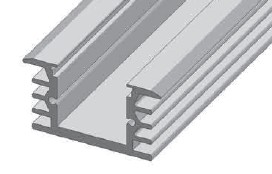 ● heatsink ZH9044 is suitable for direct mounting on flat surfaces or also as immersed into notches in various materials. With its 22mm inner width, it is suitable for many power LEDs. Strips with up to 11mm width can be embedded in two rows in parallel.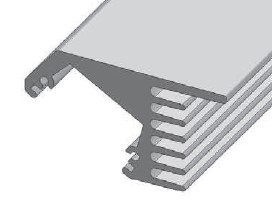 ● heatsink ZH7788 is ideal for mounting into corners, or also on flat surfaces, if there is a desired 30° angle, which is betwwen a LED base and the rear side of the heatsink. This massive type is suitable even for a higher power. Even very high power LED arrays can be used, or it is possible to embed up to three LED strips, if their overall width is within 31 mm.




Both types
also contain slots for PCB
, as well as slots for possible covering by a translucent cover. Except usage for LED lighting, the heasinks are also suitable for various other applications, where they are able to serve as a
heatsink and as an enclosure at the same time
.
Usable power load is necessary to try for a given application, a real thermal resistance of both heatsinks strongly depends on the way of installation. Naturally, resultant thermal resistance -Rth is influenced mainly by a possibility of air convection and a thermal shielding of surrounding elements.
In case of interest about these heatsinks,
high power LEDs
or
LED strips
, please contact us at
info@soselectronic.com
.

Advantages / Features:
ideally suitable for power LEDs and LED strips

simple installation of LED strip by sticking down

usage for flat surfaces, as well as into corners

aesthetic and safe solution
Do not miss these articles
Do you like our articles? Do not miss any of them! You do not have to worry about anything, we will arrange delivery to you.