USB devices, IoT sensors, and dataloggers, small or even really miniature PCBs – series 1551 offers solutions for all these devices.
Communication, sensing of gases, production processes control or only a small indication panel – these are only a few examples of industrial devices where PCB usually has only a few squared cm.
It´s obvious that today even a relatively small PCB, let's say 3x6 cm, can be populated by high amount of components and mainly – still more compact dimensions of integrated circuits allow designing a small-sized device, which 10-15 years ago needed a PCB with, say, double dimensions.
Hammond Manufacturing – the Canadian producer of enclosures is known by the fact that in every series of enclosures (plastic or aluminium) it offers usually 10-20 or even more sizes. We can add usually at least two standard colours (light grey and black) and in many cases also a selection of materials (standard ABS, flame retardant ABS or polycarbonate).
Almost all series are available even in versions with flanges for easy wall/panel mounting. For aluminium enclosures, we can also find a huge spectrum of colour combinations enclosure + end panels (+bezels). We mention it mainly because it also means that when you like some series, it´s highly probable to find there a version suiting your needs.
Series 1551 belongs to universal ones, usable also for potting by a sealing compound. Here we can find relatively small enclosures of 35x35mm to 80x40mm ground dimensions. If you wish something more narrow, then here is the 1551Mini or 1551 Mini USB series in three sizes and five colours, including a smoky translucent.
The newest member of the 1551 series is the 1551V version with ventilation openings, enabling for example a better cooling of enclosures. 

But their main domain will be most likely various devices with gases, air, temperature, humidity and similar sensors, which need air access to the PCB. Base of 1551V enclosures feature openings for wall mounting and their oval shape enables easy mounting even in cases of not ideally drilled openings (not levelled or wrong pitch).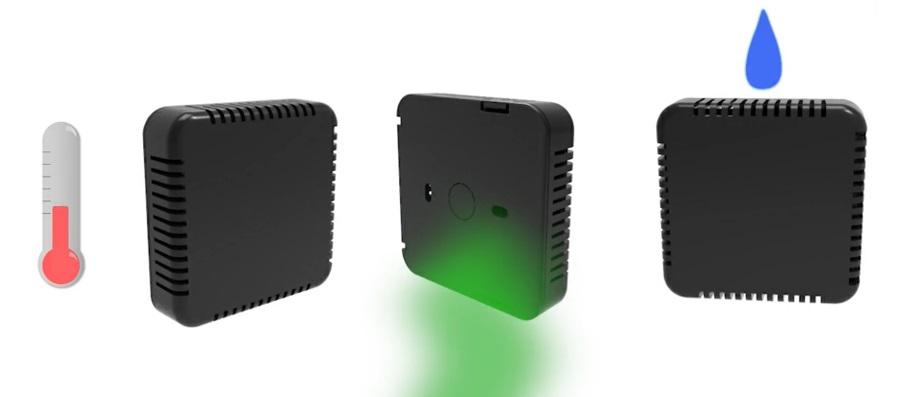 During the design of 1551V series, also an easy dismounting of top cover was taken into consideration (without tools), as many of sensor devices are battery-operated and need its replacement from time to time.
1551V sensor enclosures are available in four sizes (40x40, 80x40, 60x60, 80x80 mm), all with 20mm height and in three colours (white, light grey and black) with fine satin structure. 1551V enclosures are made of ABS UL94-HB class (flame retardant).
A PCB can be mounted on inner standoffs by common self tapping screws, best and most simply by original screws available as 1553WTS100 (packing of 100 pcs) – not included in enclosure.
Selected versions of 1551V are already in our stock, other sizes can be delivered to you upon request in a short lead time and at favourable conditions.
If you need more information or are interested in other HAMMOND products, please do not hesitate to contact us at sales@soselectronic.com
Advantages/ Features of 1551V version:
vented design enabling air exchange

ideally suited for sensor devices

easy opening without use of tools

PCB standoffs inside the enclosure

slots for easy wall mounting

available in 4 sizes and 3 colours

made of ABS with UL94-HB rating
Videos
New Hammond's 1551V enclosures for IoT devices with sensors. The vented design will provide a degree of protection from hands or tools, but will allow free access to air and moisture. 1551V series enclosures are packed with features that make design and prototyping simple such as wall mounting slots, snap fit closures, PC board standoffs and a wire entry knockout.
Do not miss these articles
Do you like our articles? Do not miss any of them! You do not have to worry about anything, we will arrange delivery to you.