The unmanaged switches from Hirschmann are the cost-effective way of entering the world of Industrial Ethernet technology without compromising the quality and reliability.
This is an archive article published 18.12.2018. Some information may no longer be up to date and in line with the current state. Please contact us in case of interest.
All switches have been specially designed for use in harsh environments and come with all the necessary certifications. They are suitable for all applications in which switch management is unnecessary. Switches with PoE ports are also available, capable of supplying power to devices such as IP cameras or IP phones via the Ethernet cable.
SPIDER family of unmanaged DIN rail mount Ethernet switches
SPIDER Series
SPIDER Switch 
The entry-level Industrial Ethernet Rail switches in the SPIDER family are the cost-effective way of utilizing Ethernet technology. They are characterized by compact design and extremely simple installation (plug-and-work).
The SPIDER family of switches provides users with an economical, reliable Ethernet switch. Models are available with Fast Ethernet, Gigabit Ethernet and PoE ports. All copper/RJ45 ports are auto-negotiating and auto-crossing. All SPIDER switches have LED indicators that provide information on power status, link status, and data rate.
SPIDER PoE Switch
The entry-level Industrial Ethernet SPIDER PoE switch can be used to power network devices such as IP cameras. Thanks to a combination of PoE and optical ports, the SPIDER PoE switch also opens up flexible network extension options.
SPIDER PoE Injector
The Power over Ethernet (PoE) injector provides power to networked terminal devices without having to replace the existing Ethernet switches or purchasing a stand-alone power supply – a solution that is both practical and cost-effective.
The SPIDER 2TX PoE Giga injector is equipped with two RJ45 ports that both support Gigabit Ethernet (10/100/1000 BASE T) and one of them additionally supports PoE+ (up to 30 W compliant with IEEE 802.3at). The extremely robust metal housing can be mounted either on a DIN rail or on the wall.
The PoE injector meets the requirements of protection class IP30. Additional features include plug-and-play activation, an extended operating temperature range from -40°C to +70°C, and a redundant power supply (24/48 VDC) with LEDs to display the status of its own power supply and the PoE port. The injector is resistant to impacts, vibration and electromagnetic fields (EMC).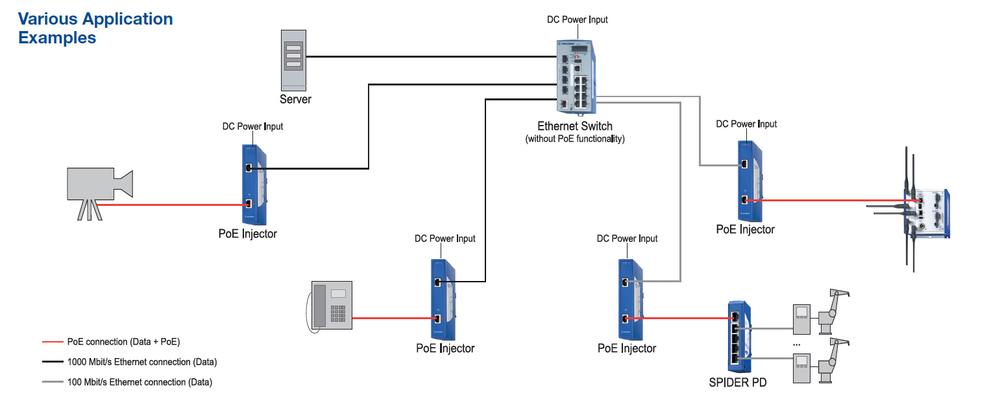 Séria SPIDER III
SPIDER III is the next generation of unmanaged, industrial Ethernet rail switches. The SPIDER III family of industrial Ethernet switches offers both Standard and Premium options. Which to use depends on the specific requirements for your application. Both are easy to install and will help you maximize your network availability.

SPIDER III Standard Line
The SPIDER III Standard Line delivers increased performance and reduces your costs, while enabling you to take advantage of Ethernet technology. This makes them the ideal choice for the OEM machine manufacturing industry where reliability and cost-effectiveness are the driving decision makers.
• Designed especially for reliable operation in harsh industrial conditions
• Small size saves space in tight areas and makes installation simple and fast
• High data throughput achieved by Gigabit data speeds, while fiber communication options ensure long-term scalability
• Reduces overall lifecycle costs with low power consumption 
SPIDER III PoE Standard Line
The SPIDER III PoE Standard Line switches are highly flexible, configurable and built for PoE+, eliminating the need for an external PoE power supply.

SPIDER III Premium Line
The SPIDER III Premium Line is designed to offer cost-effective, unmanaged switches with a robust set of customizable features to meet individual network needs across a variety of industries.
The SPIDER III Premium switches expand on the benefits of the Standard Line offerings by adding configurable switch functionality typically only found in managed switches. Plus, you'll find additional hardware options and expanded industrial certifications for broader deployment in what matters – your applications.

Easy installation and customization of each switch ports for specific applications through the SPIDER's USB port and free stand-alone software tool.

● Withstands extreme industrial conditions due to an extended temperature range, a ruggedized metal housing and an optional conformal coating which protects the electronics against dust, humidity and noxious gases.
● Meets additional industry standards and approvals, including those for transportation, process automation and marine applications.
● USB Configuration Interface - The Hirschmann SPIDER III Premium switches come with a USB interface that allows for quick customization of individual port parameters.
The easy-to-use Switch Programing Tool makes it easy to generate a configuration file and transfer it to a switch using a USB drive. This free application is available for both Windows and Linux operating systems. And it's portable so it doesn't require any installation.
Selected products from the SPIDER Switch series can be found in our stock, other can be ordered upon request.

If you need help with selection or you are interested in other HIRSCHMANN products, please do not hesitate to contact us at sales@soselectronic.com

Do not miss these articles
Do you like our articles? Do not miss any of them! You do not have to worry about anything, we will arrange delivery to you.