LED driver and controller - LT3756 from Linear Technology offers a possibility to use input voltage from 6 up to 100V at an excellent efficiency.
This is an archive article published 11/02/2011. Some information may no longer be up to date and in line with the current state. Please contact us in case of interest.
High-voltage LED driver LT3756 provides a constant voltage current limitting regulation. It features an exceptional versatility – it can be used in a boost, buck as well as in buck-boost mode, in a SEPIC or flyback topology, at the up to 97% efficiency. Its 100V floating current sensing enables an exact LED current control. Precise dimming through PWM enables to reach dimming ranges up to 3000:1. Soft start prevents spiking inrush currents. A big advantage is, that it is possible to program the frequency of the circuit from 100 kHz to 1 MHz thus optimizing efficiency while minimizing external components size and cost.
LT3756 provides all this in a miniature 16-pin QFN package with dimensions only 3x3mm or in a MSOP-16E package. The circuit is available in three versions – LT3576 and LT3756-2 contains an Open LED status pin, while LT3576-1 has the same pin in a function of frequency synchronization.
Beside the power LED driving, you can also use the LT3756 in virtually any power applications where constant voltage current-limitting regulation is required, for example at battery charging. You can find the examples of application in the Design Note 461 as well as in the LT3756 Design Ideas.
In case of interest about any Linear Technology component, please contact us at
info@soselectronic.com
.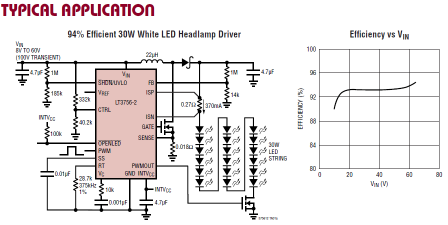 Advantages / Features:
universal IC for power LEDs driving and other power applications

wide input voltage range 6 to 100V

up to 100V output voltage

constant current and constant voltage regulation

3000:1 True color PWM dimming

100 mV floating current sensing

open LED protection

operation in buck, boost and buck-boost modes, in a SEPIC or flyback topology

100 kHz až 1MHz adjustable frequency

up to 97% efficiency

CTRL pin providing analog dimming

programmable soft-start

thermaly enhnanced QFN-16 package 3x3mm or MSOP-16E
Do not miss these articles
Do you like our articles? Do not miss any of them! You do not have to worry about anything, we will arrange delivery to you.