HW design engineers are no longer required to choose between robust fault tolerance and high performance in a RS485 transceivers - the LTC2862 offers both.
This is an archive article published 09/23/2016. Some information may no longer be up to date and in line with the current state. Please contact us in case of interest.
The LTC2862 is robust RS485 transceiver that feature ±60V overvoltage and ±15kV ESD tolerance to reduce failures caused by electrical overstress. This transceiver introduce several new capabilities for high voltage tolerant RS485 transceivers: operation from 3V to 5.5V supply voltages, up to 20Mbps data rate (LTC2862-1) or 250kbps (LTC2862-2) and ±25V common mode voltage range. Chip is available in SO-8 and 3mm × 3mm DFN8 packages. SO-8 pinout is the same as popular LTC485 and LT1785.


±60V Fault and ±15kV ESD Tolerance
RS485 wiring connections are often made by connecting the bare twisted wire to screw terminal blocks. The equipment containing the RS485 interface may include circuits powered by 24V AC/DC or other voltages that are also connected with screw terminals. The handling of exposed wires and screw terminals by service personnel introduces the risk of ESD damage, while the possibility of wiring the cables to the wrong screw terminals introduces the risk of overvoltage damage. The high fault voltage and ESD tolerance make the LTC2862 exceptionally resistant to damage from these hazards.
The LTC2862 is protected from ±60V faults even with GND open, or VCC open or grounded. It is protected also against electrostatic discharge from personnel or equipment up to ±15kV (HBM) to the A and B pins with respect to GND. On-chip protection devices start to conduct at voltages greater than approximately ±78V and conduct the discharge current safely to the GND pin. Furthermore, this device withstand up to ±15kV discharges even when the part is powered up and operating without latching up.
3V to 5,5V Operation
High voltage tolerant RS485 transceivers typically operate from 5V supplies,but the 5V supply is fast becoming ananachronism, rarely used in moderndigital circuits. In some cases, a faulttolerant RS485 transceiver is the only5V component in the system, incurring the cost of a dedicated supply. In contrast to some high voltage tolerant transceivers, the LTC286 maintain full compliance to RS485 and standards when operating from a 3.3V supply. Competing parts sometimes drive a reduced VOD when powered by 3.3V. The LTC2862 transceiver are fully interoperable with 5V-powered transceivers on the same bus when operating from either a 3.3V or 5V supply.
±25V Common Mode Voltage Range
Standard RS485 transceivers operate over a limited common mode voltage range that extends from –7V to 12V. In industrial environment, ground faults, noise, and other electrical interference can induce common mode voltages that exceed these limits. An ideal RS485 transceiver would not only survive large common mode voltages but would continue to send and receive data without disruption.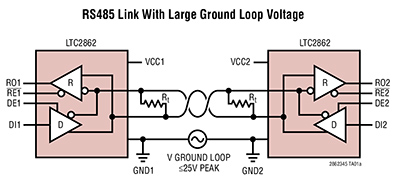 The LTC2862 excels in rejecting large amplitude, high frequency and high slew rate common mode perturbations. In a noisy electrical environment this exceptional common mode rejection can greatly improve the reliability of data communications.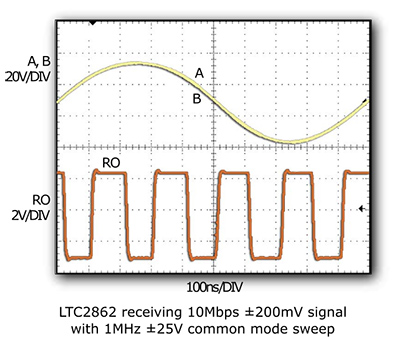 Both the high speed 20Mbps and the slew-limited 250kbps version of the LTC2862 contain receivers with the full 20Mbps bandwidth. A fast common mode transient such as the one illustrated in the next figure can produce a differential voltage as it propagates along the cable if the capacitive loads on the two lines are not well matched.If the resulting differential voltage exceeds the receiver threshold it may trigger a state change in the receiver. In systems where the data rate is ≤ 250kbps, the immunity of the receivers may be increased by adding a 100pF–1nF capacitor across the receiver pins to filter such a differential voltage.
Extended Protection against IEC Surge, EFT, ESD and Overvoltage Faults
An RS485 transceiver used in an industrial environment can be exposed to extremely high levels of electrical overstress due to lightning surge, electrical fast transients (EFT) from switching high current inductive loads, and electrostatic discharge (ESD) from electrically charged personnel or equipment. (Test methods for ESD and EFTsurge are defined in the IEC/EN standards 61000-4-2, 61000-4-4, and 61000-4-5, respectively.) The transients produced by the surge tests in particular contain much more energy than can be absorbed by the on-chip ESD protection devices of the LTC2862. Therefore, a properly designed external protection network is necessary to achieve a high level of surge protection.
The protection network shown below demonstrates how the high breakdown voltage of the LTC2862 is used to advantage in a protection circuit that meets the highest defined IEC protection levels (Level 4) for surge, EFT and ESD, while extending the overvoltage fault tolerance to ±360V. This protection circuit maintains the ±25V common mode voltage range and adds only ~10pF of capacitance per line (line to GND), thereby providing an extremely high level of protection without impacting the performance of the LTC2862 transceiver.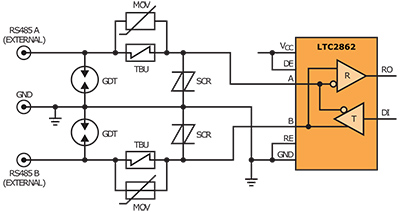 GDT: Bourns 2031-42T-SM; 420V gas discharging tube TBU: Bourns TBU-CA085-300-WH; 850V transient blocking unit MOV: Bourns MOV-7D391K; 390V 25J metal oxide varistor SCR: Littelfuse SDP0240T023G5RP; 35V bidirectional thyristor (SIDACtor)
Applications:
Industrial and measuring networks based on RS485 bus in automotive and transportation electronics, building automation, security systems and HVAC, medical equipments, lighting and sound system control
Features:
Protected from Overvoltage Line Faults to ±60V continuously

3V to 5.5V Supply Voltage

20Mbps or Low EMI 250kbps Data Rate

±15kV ESD Interface Pins, ±8kV All Other Pins

Extended Common Mode Range: ±25V

Pin Compatible with LTC485 and LT1785

Guaranteed Failsafe Receiver Operation

High Input Impedance Supports 256 Nodes

MP-Grade Option Available (–55°C to 125°C)

Fully Balanced Differential Receiver Thresholds for Low Duty Cycle Distortion

Current Limited Drivers and Thermal Shutdown

Available in DFN8 and SO-8 Packages
Do not miss these articles
Do you like our articles? Do not miss any of them! You do not have to worry about anything, we will arrange delivery to you.