MEC extender - and you´re a level higher
Thanks to a simple adapter, MEC Unimec switches can be used even in places, where their original height wouldn´t be sufficient.
This is an archive article published 20.02.2015. Some information may no longer be up to date and in line with the current state. Please contact us in case of interest.
We already know, that
Switches MEC Unimec switch in up to eight ways
and also that they´re available as momentary or alternate (latching).
UNIMEC switches
feature perhaps only one "disadvantage" - that on the same PCB no other higher components can be used (which would be higher than the switch). If you´re satisfied with the UNIMEC features, but despite that you cannot use them in your application right for their (low) height, we have for you a solution. It is based on usage of the "
16270 extender
". In combination with any right-angle cap of the 16300 series and with a prolonged bezel 16324 (16325,16326)
we gain by this combination a switch higher in 4.5 mm
. This simple solution is also suitable for cases don´t have high components on a PCB but from any reason it´s advantageous, when some room will be left between a front panel and a PCB (for cooling, ...)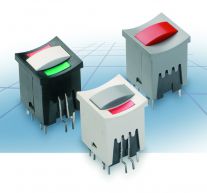 Detailed information will provide you the
MEC 16324-16326
brochure and the
Unimec
datasheet.
Selected types are in stock and upon request we´re able to provide you any other components from MEC.
In case of interest, please contact us at
info@soselectronic.com
.
Advantages / Features:
extender 16270 to gain extra 4.5mm to the height of the switch
for all caps of the 16300 series
quality 2-pole switches
250 mA/120V, 9W AC, 6W DC
8 ways to connect
gold- or silver-coated contacts
high-temperature version is also available (up to 160°C)
momentary/ latching-alternate version
IP54 protection
with or without LED indication
Do not miss these articles