The seminar about industrial Ethernet infrastructure design will give you a lot of unique information.
This is an archive article published 05/14/2015. Some information may no longer be up to date and in line with the current state. Please contact us in case of interest.
Already on June 8-th 2015 it´s possible to attend the specialized
seminar of company Belden
in Turkey. During three days you have a possibility to gain detailed information about designing industrial Ethernet infrastructure as well as its security. Detailed information can be found in the
Belden seminar 2015 brochure
.
In case of interest please register at
this link
.
If you work with sensors, signals and a data transfer in industry in general, then you´re probably familiar with brands like Belden, Hirschmann and Lumberg automation. It´s a less known fact, that all these brands (and other) belong to company Belden group.
We mention all this mainly because some components from Belden group could be found in our portfolio already for some time.
As an authorized distributor of Belden we enlarged our cooperation even more and enhanced our offer with another products
.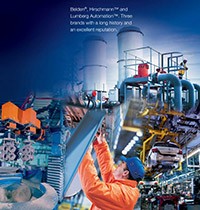 In the Belden group portfolio can be found solutions for:
● industrial networking
● industrial connectivity
● cables and cable assemblies
● machine control (MCS - machine control solutions)
● broadcasting and AV, and many other ...
From the point of view of producers of various industrial devices are very interesting industrial connectors, i.e. mechanically very stable and reliable connectors with IP rating for transmission of signals from sensors and also in an opposite way - for controlling (driving) of various actuators. It can be said, that they´re "internationally standardized" and widely used , whether in round versions - so called "sensor connectors"(IEC 61076-2-xxx) of various sizes (M8, M12, M20, ...) or rectangular - "valve connectors " according to DIN EN 175 301-803.

Universal connectors usable for power supply, control and data transmission are another very interesting group of components. Here belong for example CA series connectors.

In many cases it´s more convenient and simpler to use ready-made cables with a connector, often hermetically sealed, providing the highest protection against harsh environment and pollution. Cables are available with a PVC or PUR insulation, and also a welding sparks resistant PUR. Cables are available with one connector (the other end is free, suitable for soldering in or insertion into a connector) and also with connectors on both sided (the same or different types). Also available are cables with an approval for usage in a food industry.
For all cases, when several connectors should be interconnected on one place, are suitable so called distribution boxes (I/O modules) with a various count of connectors (ports).

Another interesting group are components for "Industrial Ethernet". Here can be found for example Ethernet switch, RJ45/M12 adapters and various interconnecting cables.

In respect to a huge amount of versions and series, we recommend you to have a look at the "Belden Industrial Connecting solutions" catalogue, where you can find particular products comprehensively sorted by given groups. Solutions for other segments can be found on http://www.beldensolutions.com website.

Some stock items can be found below this article, In case of interest in any Belden group product, please contact us at info@soselectronic.com.
Videos
Advantages / Features:
quality components for affordable prices

for all industry segments

internationally standardized sizes - possibility of replacement
Do not miss these articles
Do you like our articles? Do not miss any of them! You do not have to worry about anything, we will arrange delivery to you.